Four front panels done and four sleeves to go! Lucky for me, all sleeves involved are short sleeves. However, the anticipation of finishing both Moni and Elspeth is giving me anxiety attacks. Why? Because I'm venturing into uncharted territory and I have perfectionist tendencies. I'm not sure how well I can do the finishing of each sweater and I'm afraid that these sweaters won't turn out
perfect
as nicely as I want them to be.
I mostly finished the front of Moni over the weekend.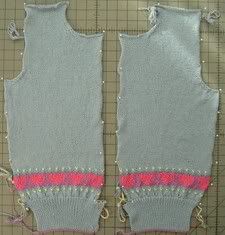 I say "mostly finished" because I haven't knitted the sewn-on button bands yet. The button bands are the anxiety-inducers on this sweater. The instructions say to press (i.e. block) the sweater and sew the shoulder seams before knitting and sewing on the button bands. That just seems so wrong to me. I think that the button bands should be blocked at the same time as the rest of the sweater. But should I knit and sew the bands before I block the whole thing, or should I knit the bands and then block and then sew? Oh decisions, decisions! The fact that I have never made sewn-on button bands makes this decision harder.
Elspeth's front panels were finished last night.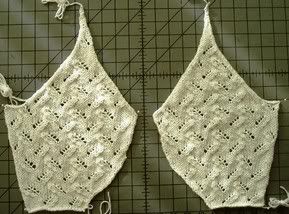 Two anxiety-inducers for this little sweater. First, the trim around all the edges is crochet. When it comes to crochet, I don't know a slip stitch from a half-double crochet. (Remember, my first attempt at crochet was
not very long ago
.) Second, after several searches through the
blogosphere
, I have yet to see a completed, well-fitting Elspeth. I'm worried that I will have to stand with my
arms akimbo
the entire time I'm wearing this sweater. (Furthermore, It disturbs me to no end that the lace is not symmetrical. But I will do my best to ignore that.)
* I always thought the term
sleeve island
was rather weird. But this title reminded me of Mr. Roark saying, "Welcome to
Fantasy Island
!" And once that thought crossed my mind, it stuck.