For the last half year, I have been mulling over knitting with linen. It seems like the perfect fiber for summer knitting. The fact that linen is completely machine washable and dryable is a big lure, too. "It gets softer with washing and drying," said Wendy at Yarns 2 Ewe. So, understandably, I was very excited to start working with the Euroflax linen that I got for my birthday. This excitement quickly wore off once I started knitting with the so-called yarn.
First of all, it doesn't feel like yarn. It's more like smooth twine. Or rough string. I had been told of this fact about linen before I got the yarn, but I didn't think it was really that bad. But I was wrong, it is that bad. It
hurts.
After knitting with the linen for awhile, my fingers feel raw. Not a pleasant knitting experience at all.
Secondly, knitting gauge swatches is tricky because you can't know your gauge until after you wash and dry your swatches. Good thing that I had lots of laundry. I could knit a swatch, throw it in with a load, and measure it. Then, repeat the process. Look at these before and after photos (in a drop-stitch pattern):
Before:
7.5 inches wide, 4.5 inches tall.
After:
5.75 inches wide, 4.5 inches tall.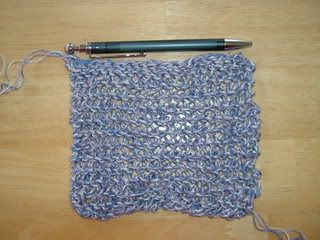 Amazing! Amazing that it shrunk so much width-wise but didn't shrink at all length-wise. And also an amazing transformation in texture. Burlap bag before and cottony soft after. I don't know if will ever knit with
twine
linen again. It's rather pricey and not pleasant with which to knit. But right now, my linen is quickly becoming a slightly modified version of
Coral
and I expect to get a lot of use out of it--after running through the wash a couple of times.