I don't have anything witty or exciting to say today. I will have to allow Scout's cuteness entertain my readers on this blog entry.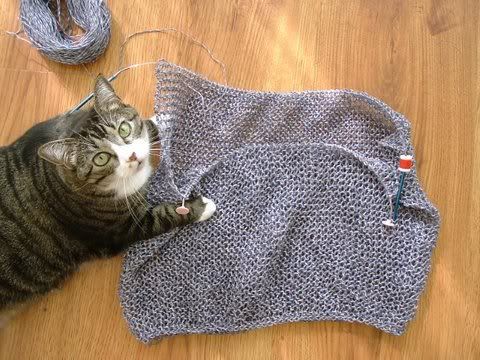 Yes, it's Coral--or at least part of it. Shall I let you in on my deep dark secret? This is the first pattern in which I have made modifications beyond changing the length. While newbie knitters rush out and design patterns and make up things as they go, I have been knitting patterns with blinders on. I never even considered altering a pattern until I stumbled across the
Knittyboards
last fall and discovered a whole new world of knitting. I'm not making major modifications to Coral, but I am thinking about designing a sweater from scratch.
Tivoli, Peacock Feathers, Yarn, and Money
Sadly, my Peacock Feathers pattern and my yarn for the Rebecca sweater are not shipping in a timely manner. The Rebecca yarn was a special order so I'm not at all surprised about that. But the delay in both the Peacock pattern and the Rebecca yarn has sent me scrambling for something else to do. I
think
that something else is going to be
Grumperina's Tivoli Tee
. However, there's a catch!
Yesterday, Peter made some comments about my yarn spending habits. He didn't go all the way and say that I had to stop buying yarn, but I know my husband. And, more importantly, I know how to handle him. No more yarn purchases for the next few months. I have a tiny stash and I'm going to work with that--even if it means knitting winter sweaters.
So, I started swatching for Tivoli using some stash cotton yarn. I like the yarn color, but I'm not sure the texture will work for Tivoli. The yarn is a bit...lumpy. I'm not sure the gauge is working out for me either. I'll need to think about this yarn and Tivoli some more.