Elizabeth
, a fellow Houston Knitter tagged me with the book meme. And like her, I'm not going to take the time to find the true answer to number one.
1. Total number of books I own?
Way too many! (Can you really have too many books?) Both Peter and I love reading. I am a textbook editor. He is in law school. The result: book chaos. We have five big, tall bookshelves but, despite all this book-storage space, the floor of my office looks like this: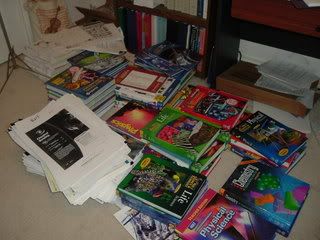 The pile of papers in the front are copies of chapters printed prior to publication. In the back left are copies of unbound books. The rest are various textbooks of which only 2 are different printings of the same book. All the rest are unique.
And the floor of the "library" looks like this: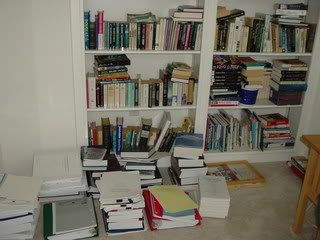 Peter filled up the top-most shelves with his law school books. So, he's resorted to storing the more recent books on the floor. Did you notice that some of the shelves in the background have books stacked in front of other books and books stacked on top of books?
2. The last book I purchased?
The last book that I bought for myself was
Middlemarch
for the
Knit the Classics KAL
. But the last two books that I acquired (for my birthday) were
The Jane Austen Book Club
and
What Einstein Told His Cook
.
3. The last book I read?
I re-read
Wicked
by Gregory Maguire. I first read this book soon after it was published. I like it, but not as much as I like some of Maguire's
other
books
.
4. Five books that mean a lot to me?
*
To Kill a Mockingbird
: My father gave me this book when I was in elementary school. At the time, it was a long and difficult read for me, but I got through it with a fair understanding of what was going on. Obviously, I didn't understand some parts. Since then, I have read the book numerous times and I still love it. My cat Scout is named after Jean Louise Finch.
*
Little Women
: What can I say? I still think that Jo should have married Laurie and I cry every time that Beth dies. I have three copies of this book (one of which was printed in the 1890s).
* Anne Frank: The Diary of a Young Girl
: Another book from my childhood. I have read the
original "cleaned-up" version
, the
critical edition
, and the
definitive edition
. I own the cleaned-up and the definitive edition and would recommend the definitive edition over the others.
*
"Surely You're Joking, Mr. Feynman"
Richard Feynman is an amazing story-teller and a physics genius to boot. The book isn't really about science and is pretty darn funny.
* Anything by Jane Austen: because I can't pick a favorite.
5. Tag five four people and have them fill this out in their blogs.
Amy
(because she's another Houston knitter),
Ingrid
(though she already answered a similar meme), the
Bad Hippie
(because she knits the classics, too), and
Monkee
(because someone tagged her before and she didn't answer).