All the knitting for Moni has been finished. I am in the process of seaming and weaving ends. I am also weaving ends. And then, I weave some more ends. Remind me of this weekend if I ever speak of doing lots of colorwork again.
Moni so far--one side seam and one sleeve seam to go.
The pile of ends so far: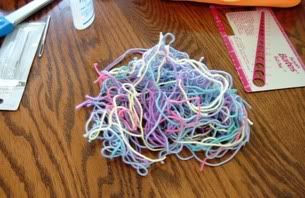 (The number of ends will nearly double by the time this is all done.)
Lily Chin Fans:
Ms. Chin (the designer of the fluffy pink shawl shown in my sidebar) is launching her own yarn and pattern line. See them
here
. Sadly, I wasn't very impressed.