I finished Candace--the second sweater for my baby niece. (It still needs buttons--Walmart, here I come!)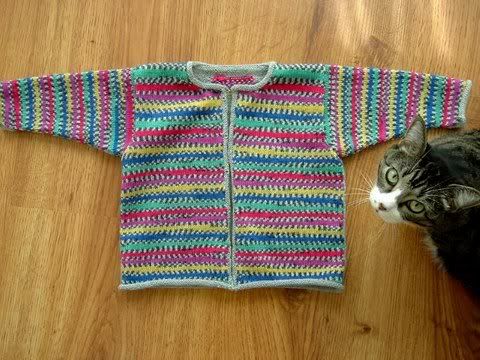 Pattern:
Candace Baby Cardigan from Knitting Pattern-a-Day calendar, size 1-2 years
Yarn:
Regia 4-ply in colors 5271 (jacquard) and 1991 (gray heather)
Needles:
US size 2 and 4
Cat:
Scout, again (she's such a camera hog!)
I even added a *ahem* design feature. I didn't seam the sleeves all the way to the cuffs and then did a single-crochet around the selvage edge. (My first attempt at crocheting!) I did this because I cast on the wrong number of stitches when I started the sleeves, but didn't discover my oops until I was nearly finished with the increases. I adjusted the increases so that the sleeve cap would be the proper width, but I worried that the cuff openings would be too small. My design feature provides a larger opening for baby hands. I think it looks good. Shhh! Don't tell my niece that her auntie made a mistake.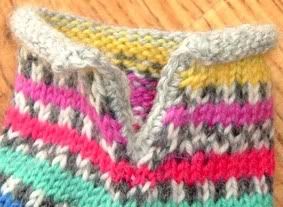 And what about the X-back tank?
Don't ask
.
Other Stuff
I want a
Richard Feynman stamp
. Though the
Buckminster Fuller stamp
is much more amusing.