When I joined the
Yarn Focus Challenge
, I didn't think it would be very challenging to me. I had already promised Peter that I wouldn't buy yarn over the summer because of all of our job-related changes. (Read previous statement as: because we both quit our nice, cushy, salaried jobs.) I even declared that I wouldn't use my allotted "free days" for May and June. The last time I bought yarn was on
April 3rd
during Yarntopia's grand opening.
April and most of May passed without much yarn-buying temptation. Sometimes I would think idly about yarn that I wanted to buy, but never went so far as to look up the yarn on the internet. Then, everything changed in a week's time.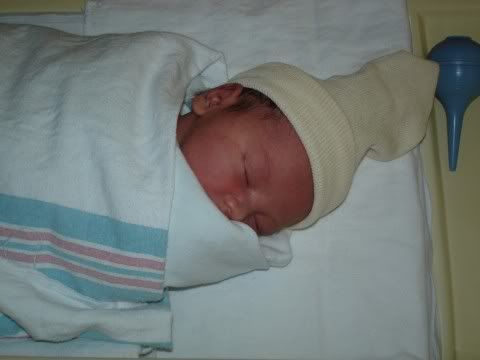 First, nephew Logan came into the world. He paid me the great disservice of not being a girl. All the sweaters I knit for his big sister Eva are rather girly. I can't expect him to wear a hand-me-down
pink hoodie
, now can I? So I started making a list of things that needed to be knit for him. A
Heirloom Baby Sweater
,
Devan
,
Cargo
, and of course, a
Loganberry Tart hat
. Suddenly, I needed yarn. A lot of yarn. But I can't have the yarn! Oh cruel Yarn Focus Challenge! Oh Careless Me for making such a cavalier promise to Peter.
Then, to make my yarn longing even worse, my birthday showed up and my brother gave me
Inspired Cable Knits
by Fiona Ellis. I had looked at the book in the store and thought it was nice. Boy did I underestimate the book! It's more than nice--it's superwonderfulfantastic! After studying the book at home, I decided that I personally needed at least 5 sweaters in the book and maybe as many as 9. And then there are a few sweaters that are gift candidates. It's the best pattern book ever! (At least it's the best ever for me. I like cables. More cables, please.)
For example, I have to make this tank top. The sooner I can get to it be better. Cables, lace, a miniscule gauge of 29 stitches/4 inches--what's not to love? Yesterday, I spend an hour looking for suitable yarn for the tank. After much searching, I think I'll end up using the recommended yarn,
Dale of Norway Stork
, because I can't find a cotton-blend yarn that has a similar gauge. I had hoped to find a cotton blend because I'm not a big fan of cables in 100% cotton. Oh well. I can't buy the yarn anyway. I think I will regret this challenge and my promise for a long time. Perhaps in July, I will make sad puppy-dog eyes at Peter and start tearing up because I so desperately need yarn. I wonder if he will cave?
A full review of
Inspired Cable Knits
to come soon!
(Apologies for the photograph of a book page. I'd rather scan such things in, but I had to return my company-owned printer/copier/scanner/fax when I quit my job. I think I miss that machine more than I miss my salary. Almost.)