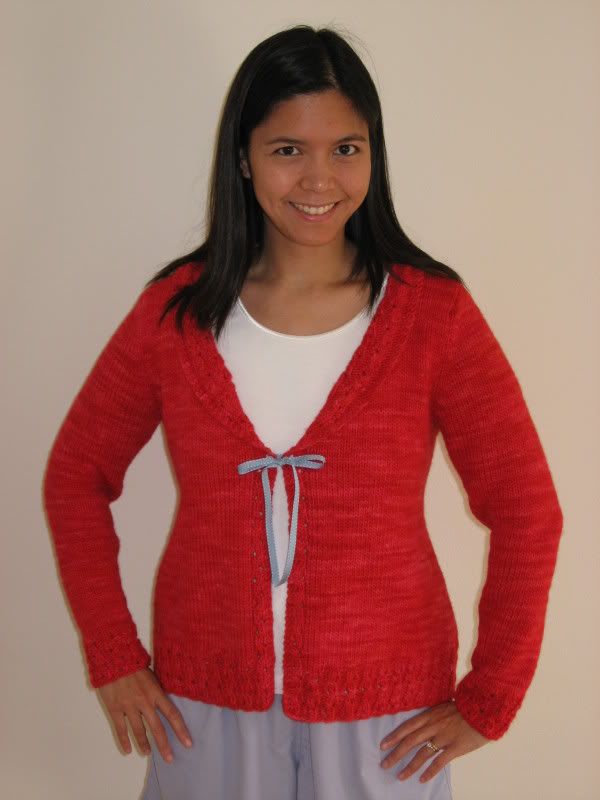 Pattern:
Salt Peanuts by Veronik Avery, Interweave Knits Spring 2004 (also available as a PDF online to IK subscribers), second size
Yarn:
Malabrigo in
Vermillion
(100% merino wool), 5 hanks
Needles:
US size 9
Comments:
1)
Another 2-week sweater for me! All that stockinette made the knitting fly by.
Grace
was my other 2-week sweater. I love this sweater as much as I love Grace. And I predict that this sweater will pill just as much as Grace does! Such is the fate of merino wool.
2)
I LOVE the shaping of this sweater. It doesn't make me look like a frumpy log. The non-batwings sleeves help, too.
3)
At first I thought that I was going to have problems making the collar lie flat.
Elizabeth
said that she had to tack the collar of her sweater down, so I knew that was an option, but I didn't really want to do it. So once I assembled the sweater, I arranged the collar and steam-blocked the heck out of it. To do this, I cover the entire collar with a damp cloth and held a hot iron on the cloth so that the iron was barely touching the cloth. I did not press down at all. Just enough contact to cause the cloth to steam. Now the collar lies flat without any additional help.
4)
I think adding more short rows in the collar would have helped the collar lie flat. But it's not something that you can predict until you put the sweater together. If I were being anal, I would have ripped the fronts to add at least two more sets of short rows to each short-row section. But I decided not to be that anal...this time.
5)
Yes it's an indoor photo. I'm not so dedicated to this blog to take a photo of a 100% wool sweater in 95ºF weather.
(Sorry no close ups at this time. The batteries in my camera died. I'll add more photos later. the lace-rib pattern is quite nice!)