A
certain reader
complained that I didn't show any in-progress photos of my
last
two
FOs so this post is specially for her.
I have two new projects on the needles. I started both of the last week after finishing the Tiger, so they are still in their "infancies" as far as WIP go.
First up:
Salt Peanuts
using the lovely Malabrigo that I bought from
Yarntopia
. Salt Peanuts (for those two knitters out there who don't know) is a pattern that was published in Interweave Knits a few years ago and is now available for free online for IK subscribers.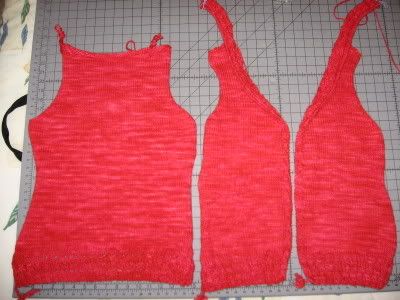 I finished the back and the fronts and have cast on for the sleeves. It is knitting up wonderfully fast (yes I did all this in one week) and is looking great. I picked this pattern because I wanted a pattern that was mostly stockinette to show of the yarn, but I didn't want to do anything boring either. The funky collar shaping kept me happily entertained. I'm looking forward to finishing by next week.
Second: Shaped Triangle Shawl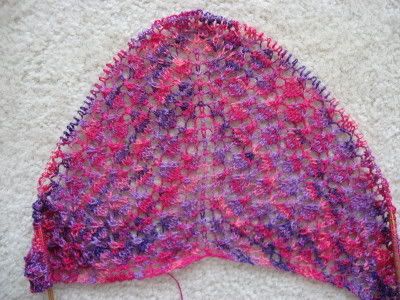 According to my spreadsheet, I am exactly 4.96% of the way through this shawl. (Don't you love spreadsheets? I have knit 3,424 stitches so far. No, I don't look at my spreadsheet after finishing every row.) Quite different from my progress on the sweater. However, I don't intend on knitting on this very much until August. My big Alaska trip is at the beginning of August and this shawl is my travel knitting. I don't want to get too far into it before then so that I won't be working on insanely long rows and won't have a huge shawl to tote around.
Is the shawl working with the handpainted yarn? I don't know. I'm reserving judgment until after the thing is blocked. I do love the colors a lot and I enjoy having the colors change as I knit, but I'm not sure that it will all work out in the end.