(hee hee, you can see that I'm planning on making more than one sweater for Loganberry)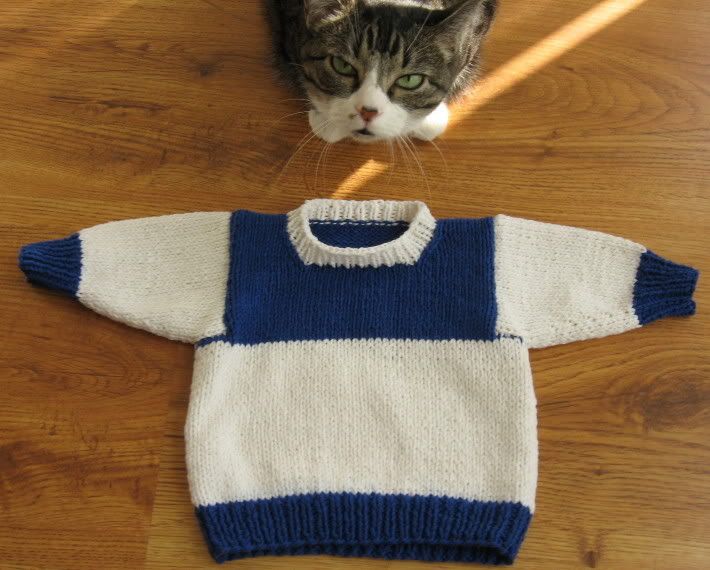 Pattern:
Basic Baby Sweater by
Elizabeth
, smallest size
Yarn:
Tahki Cotton Twist in white (2 hanks) and royal blue (1.5 hanks), also from Elizabeth. I think this is a discontinued yarn because I can't find any information about it. It is a worsted-weight 100% cotton yarn.
Needles:
US sizes 4 and 6
Cat:
Scout refusing to look cute for the photo. (Scout was very cute in one photo, but it wasn't a good photo of the sweater. Hopefully, Scout's vanity will not be hurt by posting this less than ideal photo of her.)
Comments:
Quick and easy, down and dirty knit. I came up with the color-block pattern myself. I thought I was being so clever until I steam-blocked it. The blue ran a little bit into the white. Before I knit the yarn, I tested for colorfastness and thought that I was good to go. But apparently my test was not very accurate.
I need to wash this sweater before sending it off to Loganberry. Can anyone give me some hints on how to wash it without changing all the white to blue? How can I set the dye? (I hear vinegar in the wash water works, does it?)
Peter's Comment:
Babies are small.