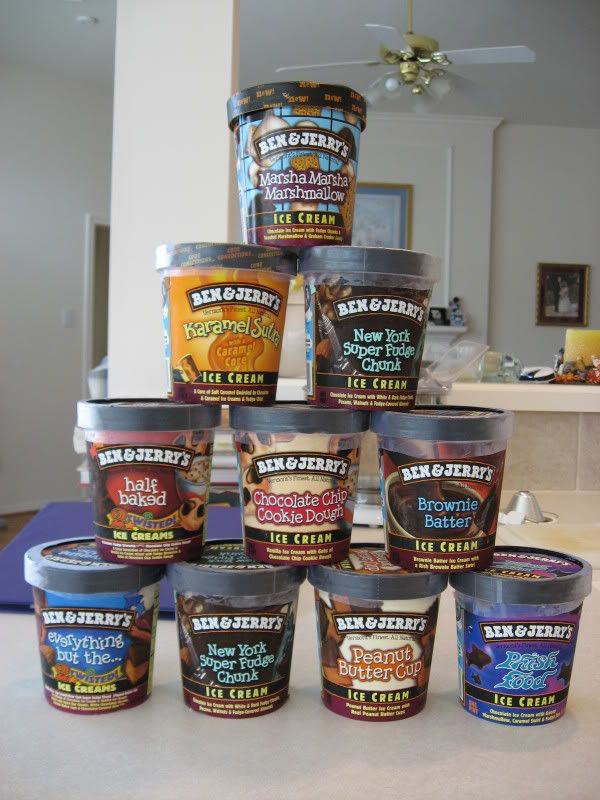 The day after the
Yarn Focus Challenge
came to an end I gave in to my
yarn buying needs
. I rolled out of bed on July 1st, went to the computer, and ordered a cone of
Brown Sheep Cotton Fine
with which I intended to make the Go With the Flow Tank from
Inspired Cable Knits
. Then, I sat back and started dreaming of its arrival.
While waiting, I was struck with a great idea for a blog entry about my lovely cone of yarn-to-be. I would compare my mountain of yarn with the mountain of ice cream that was in my freezer. I even had puns ready about ice cream cones and yarn cones. (By the way, I don't normally have that much ice cream around. There was a sale. Then, there was a coupon and the sale was still on. Then, another coupon and sale. Ben and Jerry's for $1.50 and $1.13 per pint is not something to pass up! I somehow managed to buy 12 pints of ice cream in a week and a half. Yes, I know that there are only 10 pints in the photos. You know where the other two went.)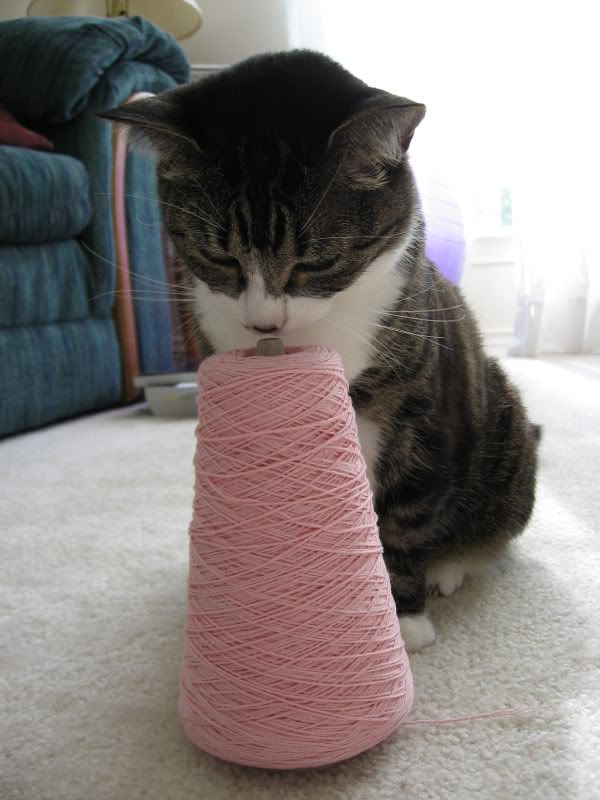 My yarn finally arrived on Friday. I had seen
cones
of
laceweight
yarn
before and they looked mighty huge to me, so I imagined that a cone of fingering weight yarn (oh so much heavier than laceweight!) would be ENORMOUS. Hence, the planned comparison to the mountain of ice cream. I ripped open the package and . . . huh? . . . what's this? . . . is this enough yarn? It's puny! Even runty Scout towers over the cone!
Now, I normally don't panic about whether I have enough yarn for a project as I always buy extra. But just two days before I got my yarn,
Valerie
, who is also knitting the same tank top, started getting nervous about whether SHE had enough yarn. True, Valerie is using a different yarn and knitting a different size, but she had planted the seed in my head that perhaps the yardage in the book was underestimated. So upon seeing the cone I immediately jumped into panic mode. Luckily
Ana
was there to assure me that cones of Cotton Fine weren't that big but they did have 1,000 yards. (Later I realized that the size I planned to make required only 800 yards and that I had much more yarn than I needed, so all panic went away.)
I've started knitting the tank. The yarn is great. Knitting off a cone is great. But did you know that fingering weight yarn is thin? Perhaps I am insane after all.