Just last week I was showing you a cone of yarn. This week I show you a finished tank top. Oh, I had planned on blogging in between of these two posts. I had the entry planned, photos taken, rough outline in my head…then I got busy and that particular blog topic never happened. And it probably won't happen until I get back from my trip. It will be an odd post in which I talk about the yarn and the knitting of a tank that's already finished. (That's assuming that I still think it's a good entry.)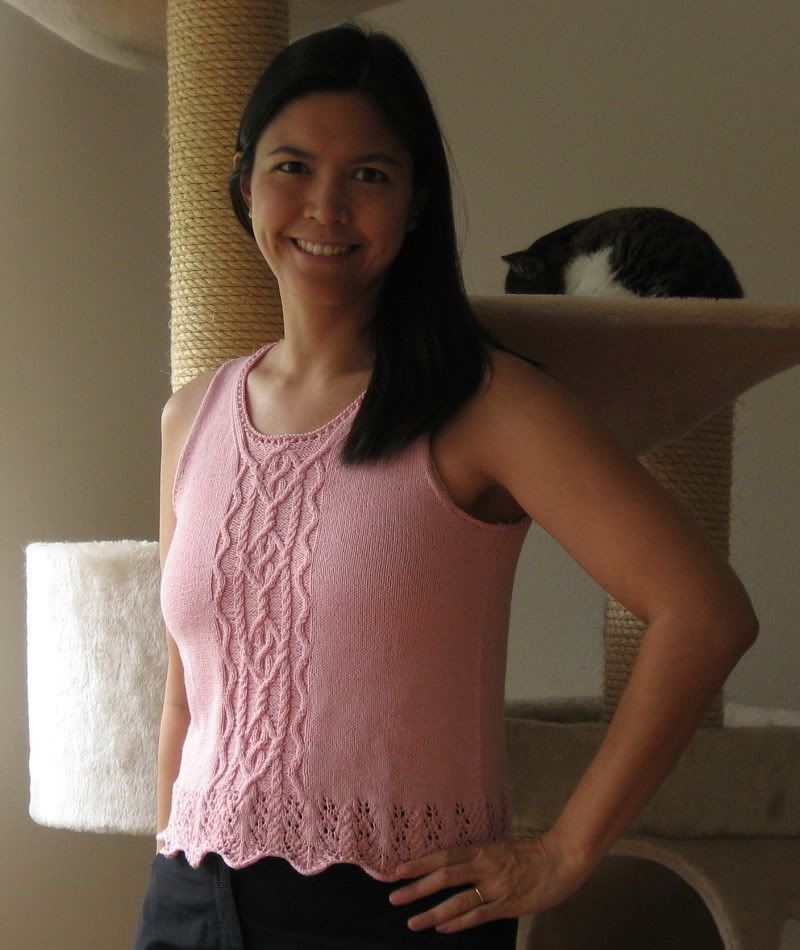 Please excuse crappy indoor photo. My photographer is taking the bar exam and the sun refuses to come out.
Pattern:
Go With the Flow tank from Inspired Cable Knits, second size
Yarn:
Brown Sheep Cotton Fine in Pink-a-boo (part of 1 cone) 80% pima cotton 20% merino wool
Needles:
2.5 mm (labeled US 1 by Addi, which is incorrect. US 1 is 2.25 mm)
Cat:
Scout taking a bath
Modifications and Notes:
1)
Knit in mini knit along with
Valerie
. She's making a pretty red one--
go look
! This also counts as an
Amazing Lace
project because of the lace at the bottom.
2)
After following the Salt Peanuts pattern to a T, I needed a bit of a challenge. I decided, contrary to my normal beliefs, to convert the pattern to be knit in the round. This really is a big step for me because (a) I love seaming and (b) I believe that seams give sweaters structure. I decided to deviate from my hard-headed beliefs because this tank is knit out of such fine yarn that I didn't think the sweater would need the seams to give it structure.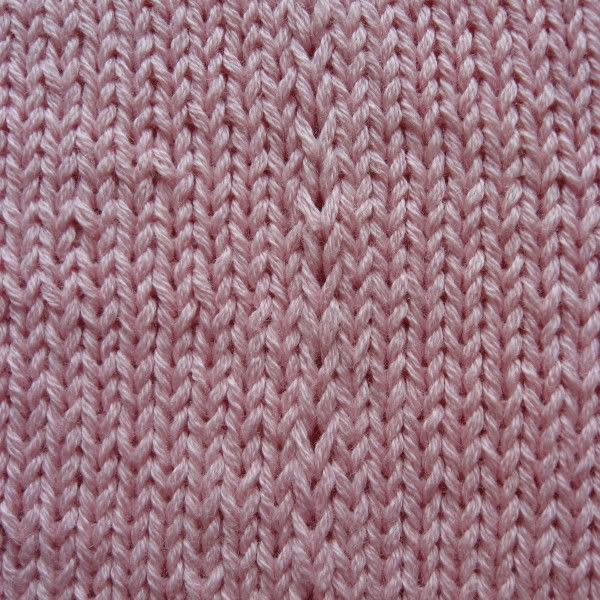 3)
But of course, I couldn't simply knit the thing in the round—oh no! I decided to try a new trick. I put in phony seams ala Elizabeth Zimmermann. Yes, I am "the absolute boss" of my knitting! I
was
going to take photos of me actually making the phony seam as part of the planned entry, but when seam time came, I didn't want to stop. I'm quite pleased with the seam--it's subtle but it makes me feel so much better about not doing a real seam (since I am still quite hard-headed about seams)
4)
And of course, short row shoulder shaping and 3-needle bind-off. I think everyone should do short-row shoulder shaping even if they don't do a 3-needle bind-off. It just looks so much better: no stair steps, no odd looking rows--just perfect!
5)
I made the tank with even ease because it's mostly cotton and I expect it to get a bit baggy with wear. I'm happy with the way it fits around me but…
6)
I feel kinda chesty in it. The problem (for me) is a result of the way the armholes are shaped. The armholes cut fairly far to the center. I think 20 sts were decreased on each side--that's a lot even in fingering weight yarn. Having the "straps" set-in and narrow make my shoulders look broader, which makes me look wider. I guess I'll have to remember that I prefer my tanks to have wider-set straps.
7)
Interesting construction note: the larger sizes add length in the bottom border rather than in the cabled part.
Random close ups