Thank you for you kind words on Salt Peanuts! As promised, some close up photos of the lace ribs in the sweater.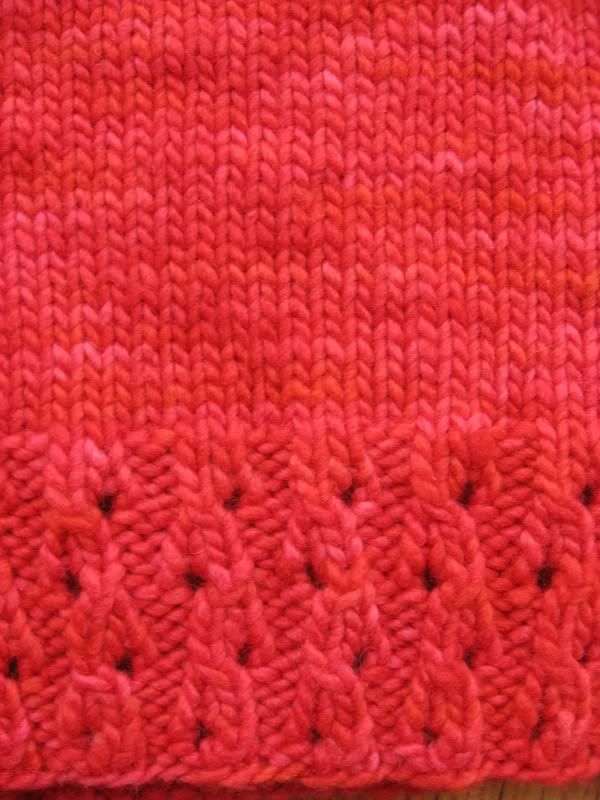 First, the bottom ribbing plus some stockinette to show the colors of the yarn. I am thrilled with the way the yarn knit up. The subtle shifts from pink to red give the sweater an interesting look and texture. Many people commented that this color looks good on me and
Christina
even said that I should wear red more often. Well, I do wear red quite a bit, but I don't seem to knit with red very often. Why not? Two reasons. First, I like to knit cables, and I feel that cables pop more when knit in light colored yarn. Hence, my obvious preference for pink yarn. Second, I'm very picky about reds. I dislike reds that have an orange tone to them or reds that are dull looking. Very few yarns come in a red shade that I like, but they almost always come in a pink or a purple that I find acceptable. So, no red yarn is bought!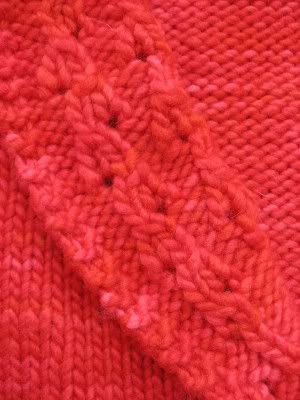 This is the collar on Salt Peanuts. The collar shaping is ingenious. The collar is knit at the same time as the fronts and short rows are used to give it curves. The lace rib pattern is also reversed when the collar is worked so that it will show correctly when the collar is turned out. Of course, working the collar, the neck shaping, and the armhole shaping all at the same time made knitting the fronts quite exciting. I actually used tick marks to keep track of where I was. (Normally, I just remember what I'm doing or use a row counter and mental math to keep my place, but this time I was nervous about getting lost.) If you're thinking about this sweater, make sure you aren't disturbed while working this section!
OWIE!
Last week I decided that I would start riding my bike in preparation for my hiking/biking/rafting/dog-sledding trip to Alaska next month. I've been training indoors, but the nice, wide, cushy seats of the
recumbent stationary bikes
in the gym don't numb ones tush like a real bike seat does. So, I felt that I needed to get my tush in shape so that it doesn't rebel in Alaska. I strapped on my
GPS watch
, jumped on my bike, and started riding around my neighborhood. After about 7 miles with no tush numbing and no heat exhaustion. I was feeling pretty good about myself.
Then, a car passed me. I looked up at the car as it went by and then look down at the road again just in time to see my front tire hit a rut. Yes, I wiped out. So much for feeling confident. A woman walking her dog rushed up to me and said, "That was my neighbor's car that went by! I know she's a bad driver, but I hope she didn't hit you!" It seems funny now, but at the time I was too concerned about find a way to stop my knee from bleeding.