PumpkinMama
is having a T-shirt contest (but not a wet T-shirt contest)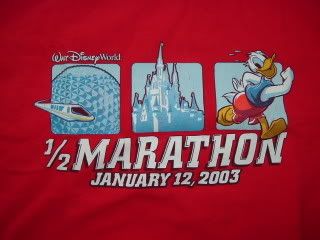 This is the front of my favorite T-shirt. I bought it after I ran the Disney 1/2 Marathon. Nine months prior to this race I was a total couch potato. I thought sweating was icky. But Peter had decided that he was going to run the Disney Marathon and convinced me that I should try the 1/2 marathon. ("What else are you going to do while I'm running?" he said.) I love this T-shirt because shows that I am capable of doing something that is very hard for me to do. I also love the T-shirt because of what it says on the back. (Note: Donald Duck is the race mascot.)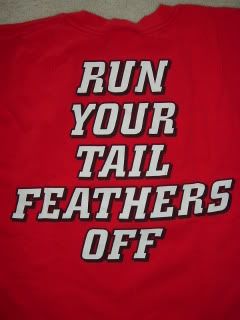 Thanks Agnes!
Remember the
Chinese scroll
in my house? I sent a photo of it to
Agnes
, and she gave me a translation and lots of info about it. So cool!
This is a very famous poem ... almost everyone who has studied Chinese
literature would have known it. However, I am afraid my translation would not be
too accurate ... so I searched on the web and found an English translation. It
is an honest translation,which would give you an idea of the literal meaning of
the poem:
http://www.chinapage.com/poet-e/zhangji2e.html
Then, the following link will take you to pictures of the actual location in the poem: http://pws.prserv.net/hiroyuki/b5_code/hanshi2_b5.html
Then, I'd like to give you some simple background information so that you
can better understand the poem. The poet was thousand miles away from home, in the capital of the country to take part in a national examination (which was
very important to academia because that was the way for them to be able to get a
job in the government). However, he failed in the examination. On his way home
on a boat, he arrived at this town (Suzhou). The poem described what he saw,
what he heard, and how he felt during that night ...when he suffered from
insomnia (due to his failure? maybe). The poet is not a very prominent figure in
Chinese literature ... however, this poem won him a place there. I hope what I
gave you here helps. Enjoy.