What better way to celebrate finishing a sweater that I didn't like?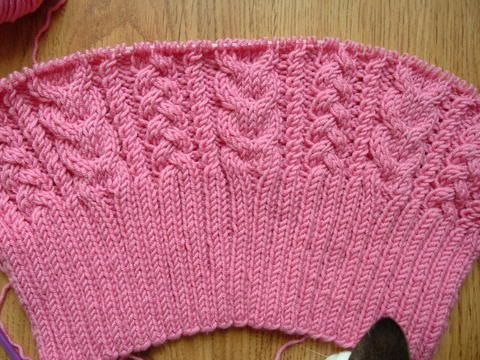 This is the start of Grace from Debbie Bliss's Cotton Angora book. I have been wanting to make this sweater for ages. I'm using squishy and soft Karabella Aurora 8 and I'm loving it. I'm cabling without a cable needle which makes knitting very fast. I wonder why I didn't learn to do this sooner. Last night at the SnB, I showed
Monkee's
mother how to do a
cable without an extra needle
. She was horrified when she saw the stitches hanging in mid-air. :-)
The Amazing Race started last night--yay! I'm a little disappointed to see that the entire race may take place in the United States for this season. Where's the fun of seeing self-centered Americans make fools of themselves in other countries? I wonder if we will be getting a history lesson and be overwhelmed with patriotism during this race. I would find that annoying.