A couple of the neighbors are boarding up: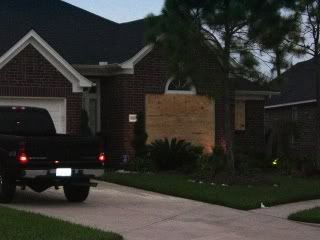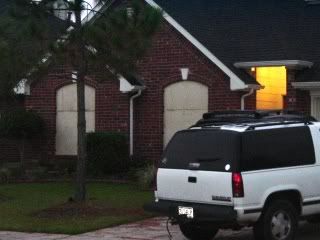 Should I be scared? I don't know. Peter says that we shouldn't panic because
(1) we're 30 or so miles inland
(2) we're above sea level
(3) so far, it doesn't look like the storm will hit the Houston area directly
(4) we had absolutely no flooding during freak Tropical Storm Allison (the storm that hit Houston on a Tuesday, moved inland, turned around and hit Houston again on Friday, causing massive flooding throughout the city)
We're not evacuating before the storm but we are planning. We have food, we're going to store water (I guess I'd better clean the bathtub tonight!), and we know where we are going if we have to evacuate after the storm.
Having never been through a hurricane before, I'm not sure if I should be panicking or worrying right now. Of course the media is all hyped up, but I think its because the local media desperately wants the "big one" to hit Houston and because of all of the Katrina aftermath. Interestingly, the mayor of Houston is conveniently using the possible Rita hit as an excuse to move all of the Katrina evacuees out of Houston. The ones that were still in the shelters are now being shipped out of state.
So, I'm trying to ignore the local media and I'm just tracking the storm through
NOAA
. I love the NOAA website. I use it all the time for research for my job. You can find lots of interesting tidbits of information on that website. Did you know that hurricane names are recycled? I'll have to wait until 2008 for a
hurricane Laura
.
Knitting Content?
Proof that I am a process knitter: When I was mentally listing the things I wanted to take if we did evacuate, tops on my list were my cello and my yarn. I didn't even think about taking my finished objects until I started thinking about clothes to take. Tops on my clothes to take list? Underwear, jeans, shorts, t-shirts. No knitware.