As I said before, I'm not sure the puffy sleeves on Rebecca are working for me. I asked for the opinions of the fine (and opinionated) people in the Knitty Coffeeshop and the
reaction was mixed
. However,
Gretchen
suggested that I wear the sweater a few times as it before deciding on what to do. And that's exactly what I am going to do.
But of course, I have been thinking about how to fix the sleeves if I decide to do so. The easiest solution that I see would be to frog the sleeves from the bottom up until I undo all of the cabling part. Then, I would cast off and add the picot edging as before. I
think
and hope that this process will result in cute little flutter sleeves. Sorta like this: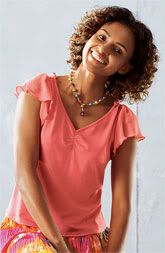 I think shorter sleeves will help immensely and I think the fullness of the flutter sleeves will compliment the fullness of the bottom "peplum." Creating flutter sleeves will also allow me to avoid undoing all the seams and undoing the bottom crocheted edging. (ugh!) If the flutter sleeve idea doesn't fly, I guess I will design and knit new straight sleeves. But I have to wear the sweater a few times before I do anything rash!
Additional Rebecca Error Alert
Yesterday, I was studying the photo of the sweater in the Rebecca magazine and I realized that the pattern had the wrong cable chart for the sleeves as well. One row of cable crossings is missing. So, Rebecca is 0 for 2 as far as charts go. However, if that additional cable row was incorporated, the sleeves would be another 0.5 to 0.75 inches longer! eep! I think they are too long as they current are.