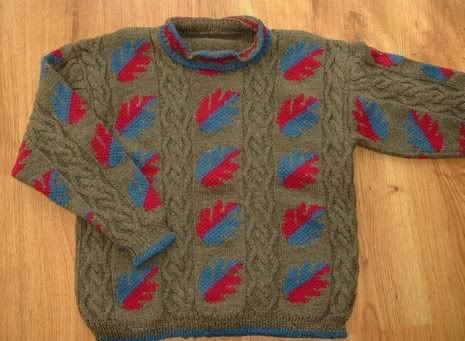 This sweater was my third finished object. The first two were
also
sweaters
. I made this sweater for Peter when we were still in chemistry grad school--several years before we were married. Lucky for me the silly boyfriend curse did not hold true for this sweater. The pattern came from one of my mother's books, but I don't know which one. It's knitted in Brown Sheep Nature Spun. I know that because I still have lots of leftover yarn from that sweater.
I'm not going to show any close ups of this sweater because, frankly, I was quite horrified when I pulled the sweater out to take a photo of it. First of all, it's way too big for Peter. I didn't know anything about sizing back then. Peter always buys x-large clothes because he needs the length in the sleeves. So, I made him an x-large sweater even though I could have made him a medium and just increased the length of the sleeves. Secondly, my finishing techniques were not so good back then. I didn't know how to mattress stitch, so I crocheted the seams. And the collar! I can't bear to look at it. Yet, Peter still wears this sweater when he has a chance. Now, that's love for you. Just looking at this pathetic excuse for a sweater inspires me to fix that
other sweater
that I made for him.
Peacock Feathers
is still continuing. I'm just starting chart 5. It's now too big to stretch out on the needle and I haven't gotten to the point where the pattern changes again. So, no new pictures. It's just a green blob for now.
My mother is coming to town for a week starting today. I won't even try to hide the shawl from her as it's the only thing I'm working on now. But I'm not certain that I'm going to tell her that I'm going to give it to her. In any case, I probably won't be blogging much while she's here.