The reason why I put myself on a yarn diet was because I bought three sweaters worth of yarn in a week. (Then, I bought another sweater worth the following week, but with good reason!) So far, three of the four batches of yarn have arrived. I'm not one to keep a large stash of yarn, so I'm a little embarrassed to show you just how many balls of yarn are sitting around. Therefore, this yarn p0rn will be a tasteful--just one ball of each type/color.
First, the
Rosa
yarn--Rowan Handknit Cotton DK.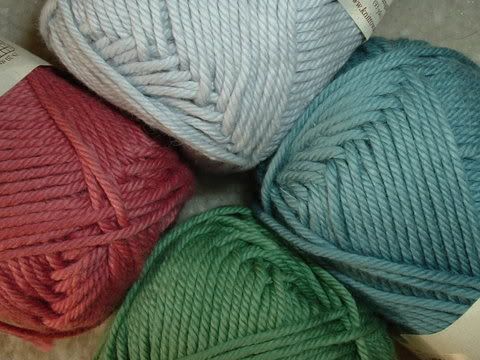 The light blue on the top will be the main color. The red and the darker blue will be the flowers and the green will be the little spots between the flowers. The colors are actually much more muted than they appear here. They aren't colors I'd pick for myself, but my MIL loved them.
Next, the yarn for my two winter sweaters.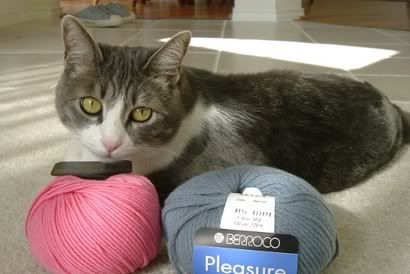 The pink is Karabella Aurora 8 with which I am going to make
Grace
from Debbie Bliss's Cotton Angora book. The blue is Berroco Pleasure. I *think* it is going to become
Rogue
. I can't believe that I bought this yarn. It's one of the few times that I bought yarn without a specific project in mind. But it's bunny yarn! It was
super cheap
!
Pokey little Peacock
I'm trudging along with the Peacock shawl. I'm into the third chart out of seven. (Then there are two edging charts--why didn't the designer number the last two charts 8 and 9?) Full view below, close up
here
.