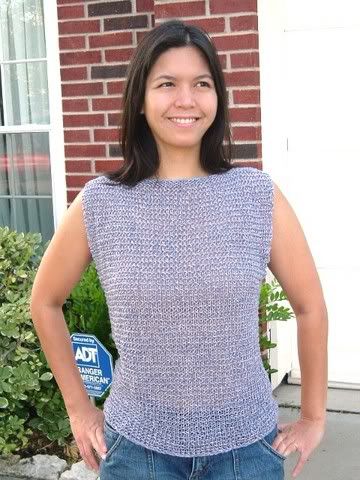 Pattern:
Coral from Rowan 31, size small
Yarn:
Euroflax Linen, Athens, shade: purple, blue, white
Needles:
US 7 for main body, US 9 for edges, US 13 for cast on and bind off
Alterations:
Converted pattern to be worked in the round, changed shoulder shaping to use short rows and three-needle bind off
Overall thoughts:
The pattern was insanely easy and quick to knit. The tank is very comfortable, but I'm not certain that it is very flattering on me. It's very see-through, but a nude-colored camisole takes care of that. I see this more as beachwear or something to wear when it is extremely hot outside. Peter doesn't care for it at all. But I think the pattern and the yarn were well suited for each other. What I like most about this tank is that I can (and have) thrown it in the washer and dryer.