Look what I did!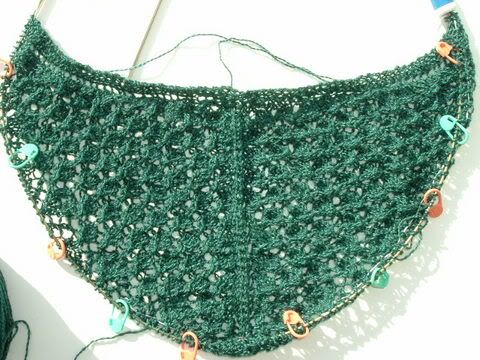 My Peacock Feathers pattern showed up and I knit like a fiend on it.
Yes, I know I said that I was going to make a Tivoli tee. I swatched, washed my swatch, measured my swatch, and was a mere two hours away from casting on when I decided to take a peek at Grumperina's blog. Good thing that I did! Kathy had just posted an
entry announcing that she was going to provide a standardized pattern
which is to include a 32" size. Instant dilemma. Should I wait for the standardized pattern or do the maths* myself to convert the currently available 31" size to 32-33"? Well, laziness won out. I'm waiting for the pattern.
* I said
maths
because this is Kathy's pattern and she always says maths. When I lived in England, I said maths all the time, but reverted to using the singular when I moved back to the United States. Don't you think
maths
makes much more sense? It is short for
mathematics
which is plural.
More plans out the window
I said that I was on a self-imposed yarn diet. I already broke my diet--but with good reason. A reason that Peter cannot argue with. I bought yarn to make
Rosa Reef
(to be referred to as Rosa from here on) for my mother-in-law. For the last month, I have been asking Peter if his mom would like a shawl or something else knitted. He suggested that I ask her to pick out a pattern, so I did. When she was visiting this last weekend, she picked out Rosa. (So much for avoiding color work for awhile.) I showed MIL the color options on the computer and she became stressed out. She couldn't pick colors from a monitor. So off to the yarn store we went! She and I sat on the floor with many balls of yarn trying different color combinations until she found one that she liked. We did end up having to buy some of the yarn online because the yarn store didn't have enough of the main color yarn in stock.
Once all the yarn arrives, I have to decide which to make first: Rosa for MIL or Rebecca sweater for me??
Oopsie!
You can't see the
life line
in the Peacock feathers shawl in the photo above. It's not there because I think the pattern is tricky. It is there because I had a major disaster this weekend. If I ever have a similar disaster, the life line should allow me to avoid starting completely over. I move the life line every few rows. As much as I like charts 1, 1a, and 2, I do not wish to knit them a third time. Note to self: Do not sit on part of circular needle while picking up work.