My vacation from work, blogging, and "real life" will end in about an hour. (Ok, technically, my vacation from blogging is ending right now.)
When Mom and I were at a local yarn store, I picked up some Koigu with which to make sachets. Mom was so intrigued with the yarn and the pattern that she insisted that I make a sachet while she was here so that she could see how it fit together. Like a good daughter, I obliged.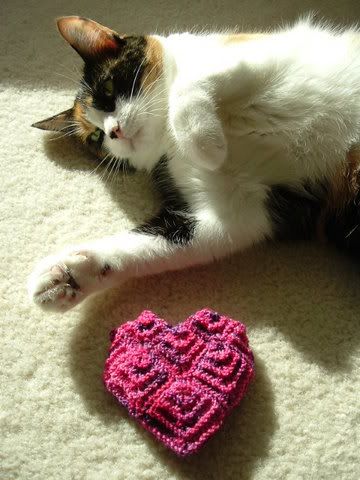 Pattern:
Heart Sachet
from Interweave Knits (clicking on link opens a PDF)
Yarn:
Koigu KPPPM dye code P211, 100% Merino wool
Needles:
US size 1
Cat:
Cleo (one of the rare pictures in which she wasn't grabbing the heart)
Filling:
Nothing yet--I'd like some advice on how to stuff this thing. I'm afraid that if I just put dried flowers in it, little bits of dried flowers will leak out over time. Should I put the flowers in some pantyhose before putting it in? Should I supplement the dried flower stuffing with polyfil stuffing? Do I need to worry about oils from the flowers damaging the yarn? Help!
Notes:
This yarn is perfect for the project! The variegation helps highlight the mitered squares. Weaving in ends as you go is essential--unless you want to have 28 strands of yarn hanging out of your project.
Additional photos:
Close up with less dramatic lighting:
one side
and the
other
. The top of the heart isn't sewn up completely and you can see a stitch marker/holder peeking out in these photos.
I also worked on Peacock Feathers.
I'm now nearing the middle of chart 7, which means that I'm on the big feathers at bottom third of the shawl. Most of the time, the shawl just looks like a green blob. I attempted to stretch out a portion of the shawl to show off.