I guess I spoke too soon when I said that I was having no problems with the Elspeth pattern. As soon as I got to the raglan shaping, I knew I didn't understand what the pattern was saying. Luckily,
Jen
translated the British English description of the decreases into words that I could understand. Thanks to her help, I now have the back of Elspeth finished!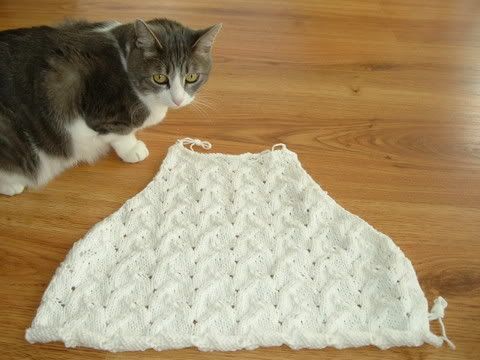 That's Elly with Elspeth. I decided that Scout was getting a little too big-headed because she was displayed so prominently on this blog. A better photo of the back can be seen
here
.
As soon as I finished the back, I sat down to read the directions for the front. Talk about
unclear
! I ended up writing row-by-row directions for the increases and decreases. So, if anyone out there working on this sweater is flummoxed by the the directions for the front, send me an email (or leave a comment) and I will be happy to email a copy of my notes to you. I wrote the directions for the 2nd size, but will include notes so that you can easily alter the row-by-row directions to fit any of the sizes.