After only four attempts (one of which was
spectacularly bad
), I finally have a Ribbon X-back tank that fits me! True, versions 2 and 3 never made past the 4-inch mark, but they still involved casting on, knitting furiously, frogging, and rewinding yarn. So, here is x-back version 4 in all its glory: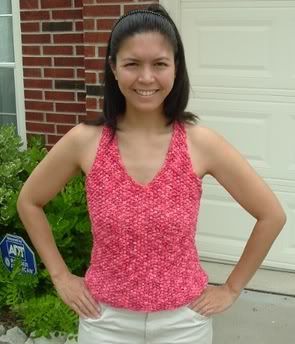 Pattern:
Ribbon X-back
from Knitty.com Spring 2005, size x-small
Yarn:
Crystal Palace Deco Ribbon in color 9237, strawberry soda
Needles:
US size 11
Please ignore my squinty face and the hair that's sticking up. I thought about cropping my head off, but I have decided that I don't like headless photos. Photos look better with heads and I don't need to conceal my identity.
Cyber-creep Monkee
already knows what I look like.
Here's the back: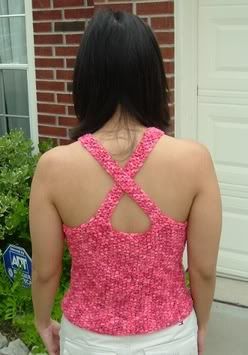 I could go on and on about my trials with this tank top, but what's the point? I finished it and I'm happy. It's comfortable, cute, and perfect for this summer!