At 12:01 AM tomorrow morning the final installment of
Star Wars
will open to the general public. Trust me, I won't be there. I'm not interested in dressing up like an Ewok. (Though, I'm embarrassed to admit that I did dress up as Princess Leia for a very bad spoof-skit in graduate school. I even put my hair in buns over my ears.) I'm not a rabid
Star Wars
fan, but I do like the movies and I will probably see
Revenge of the Sith
this weekend. There is something about these movies that compels me to see them. Maybe I want to see them because the original trilogy was such a big deal when I was growing up.
I honor of the movie opening, I'm sharing this photo: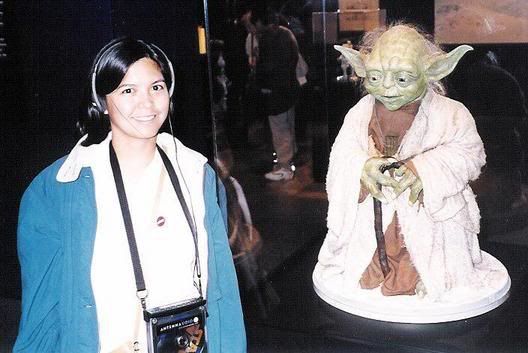 That's an over-exposed me with the REAL Yoda--i.e. the Muppet Yoda that was used in
The Empire Strikes Back
, not the computer-generated Yoda of
The Phantom Menace
or
Attack of the Clones
. The photo was taken a few years ago at an exhibit of
Star Wars
props that was in the Houston Museum of Fine Arts. Thankfully, George Lucas allowed people to take photos at the exhibit.