My first foray into ribbon knitting did not go well. I'm pretty much finished with the
ribbon x-back
from Knitty and it's awful. I'm not tiny (34-inch chest), so I made the size medium, which is supposed to have a finished measurement of 35 inches. Well, it is WAY TOO BIG. Huge. And I'm pretty certain that my gauge is correct (I swatched before starting and re-measured my gauge after finishing the tank). Is it because the fabric/yarn is too stretchy? I don't know. But look at these pics as evidence.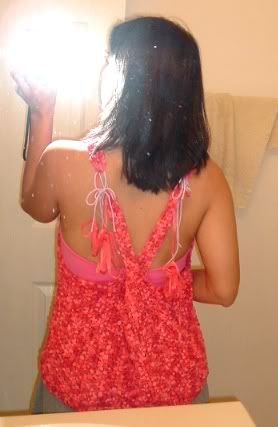 In this photo, you can sort of see that there is so much extra fabric that the straps in the back do not form an X. Instead they just pull in and create a big fold in the back of the garment. (I haven't done the three-needle bind off yet--so all the yarn bits are still hanging off.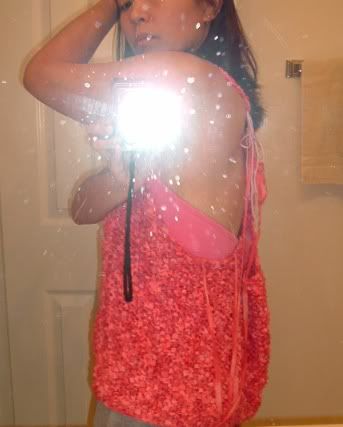 This photo shows just how much it's hanging off my body. And you can see the fold in the back better. I'm wearing a pink halter top in these photos to keep the photos from revealing too much. I'm pretty irritated. I hated working with the ribbon yarn and the fat needles and I'm so unhappy that this is unwearable. I'm not sure if I will reknit it or not. If I do, I will try a smaller needle and perhaps a smaller size. Right now I just don't want to deal with it.
(entry cross-posted on
Ribbon Xback KAL
)