After my speedy work on Moni's back, my knitting pace has slowed. Not because I'm tired of knitting, but because I had a lot of non-knitting obligations and activities this week. Sigh!
Where am I now? I started the front panels of Moni. I knit them both separately until I finished the fair isle part and now I'm going to work them together so that I can match the shaping. On the advice of Wendy from
Richesse
, I decided not to duplicate stitch the yellow and blue stitches. I purchased the yarn for Moni from Wendy. Her store is small, but the service is excellent. I was a little worried about picking colors online, so Wendy emailed me more detailed descriptions of the yarn colors and helped me pick colors that went well together.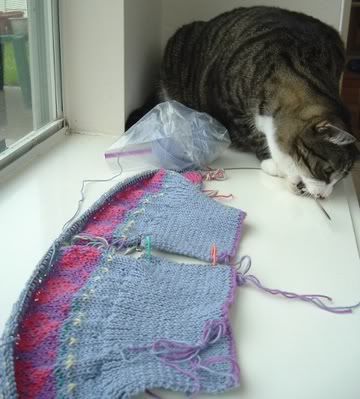 I
was
trying to take a good photo of front panels, but Scout decided that she needed to "help" me again. As you can see, Scout likes Addi Turbo's, too!
Meanwhile, I picked up some soft and fluffy cashcotton for making
Elspeth
. I'm making a white version (not pink! not red! horrors!) and I'm continually paranoid that I am going to mess up the yarn before I even finish the jacket/bolero/shrug/whatever it is. The yarn stays in a ziplock bag. The only part of the yarn that is ever taken out of the bag is the part that has been knit up or is in the process of being knit up. The working ball stays in the bag.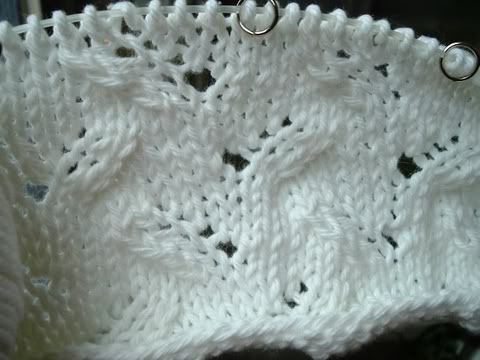 Lesson learned today:
It is not easy to take photos of a white lacy thing. Here is a
back lit photo attempt
.