So many people think that I'm just nuts for knitting an adult-sized sweater on size 2 needles. "It will take forever!" they said. I'm here to prove that I'm not crazy and that "they" are wrong! Lookie!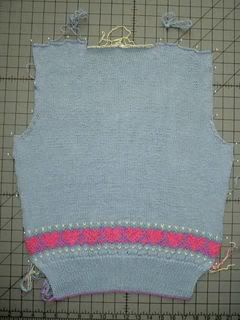 Yes, I finished the back of Moni today. I started on May 7th or 8th, so knitting it didn't require much more time than knitting the back any other sweater. I haven't blocked it yet (I just pinned it out for the photo shoot) so the fair-isle part isn't completely flat on the blocking board. I may have overdone it in my attempt to knit loosely through the fair-isle bit. Oh well, I'll just hope that blocking solves the problem.
I'm thinking about changing how I knit the fair-isle bits on the front panels and the sleeves. Look at the photo below. I'm thinking about duplicate stitching the circled yellow and blue stitches rather than stranding two yarns. I'll have to experiment to see how duplicate stitching looks. I think it will look better in the end. Hopefully, no one will notice that I used two different techniques to knit the same thing...I won't tell anyone.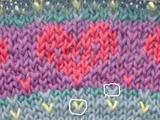 Other News
We paid off my
cute and cuddly Mini Cooper
last week. Now it's all MINE!!!