Yes, I've been a bit delinquent and now I'm going to make up for it with an extra long post!
First, answering some questions about Peacock Feathers:
AndreaR
asked if I used the cone that Monkee had "leftover." I guess technically, the answer is yes, but considering that the cone was still enormous (see
photo
) when I finished the shawl, I'd hardly call it leftover yarn. I guess we now know that a pound of Zephyr can produce not
one
, but two large shawls and still look like a large amount of yarn.
Corisa
asked how long I took to knit the shawl. I started on July 1st. I ripped back charts 1, 1a, and 2 on July 3rd. I started a second time on July 4th. I finished July 31st. But it was pretty much the only thing I knit during that time period. I was in my "I gotta finish" mood almost the entire time I was knitting the shawl. For some reason, I really wanted to be done.
And I'm sure everyone is wondering what my mom had to say...well, she hasn't gotten it yet. I sent it on Wednesday and the UPS people say that it's supposed to arrive tomorrow.
Second, a problem solved:
I asked for advice on how to stuff my heart sachets.
Tabbytuxedo
and
Cordelia
both suggested making an inner pouch out of fabric and
Yarnhappy
told me to try stuffing with dried lavender seed heads. So, I wandered into a craft store looking for dried lavender and found not only the lavender but little organza drawstring bags! How perfect!
Now, after a little more knitting, a little sewing, and a little stuffing, I have three heart sachets ready to give to my friends!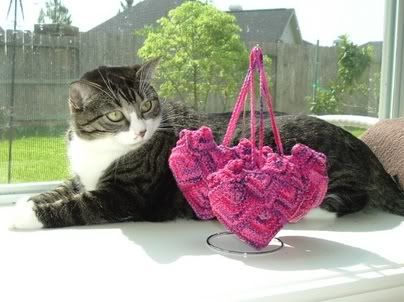 Third, new projects!
I've cast on for Rosa (MIL sweater) and the Rebecca sweater. Here's the start of them, Rebecca on top, Rosa on bottom.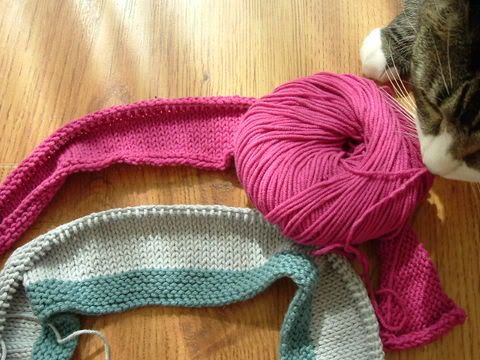 I took that photo yesterday morning and both are now much larger. But I'm too lazy to take another photo right now. Rosa is being made out of
Rowan Handknit Cotton DK
--a 100% cotton yarn. After working with this yarn for just a few days, I can understand why people complain so much about knitting with 100% cotton. The ball of yarn and the fabric made feel soft to the touch, but when you handle a strand of the yarn, the strand feels stiff. It doesn't have any stretch or give. (I guess one would say that it has no loft.) I don't think intarsia will look very nice with this yarn and I'm wishing that I had tried harder to convince my mother-in-law to let me make the sweater out of wool--or at least a wool blend. Oh well--it's what she wanted.
On the other hand, the Rebecca sweater is being made out of
ggh Bali
--a 50% cotton/50% acrylic yarn. What a difference! This yarn feels spongy and the fabric is nice and drapy. I'm happy that I have this project to work on when my hands get tired working with the Handknit Cotton. If I can find a reliable supplier of Bali, I think I will use it for other worsted weight projects.
Lastly, I'm off!
I'm going out of town on business next week. It looks like I'll be stuck in so many meeting that I won't be able to take a trip to the yarn stores there. To make matters worse, I'll be attending these meeting in person, not on the phone like I normally would. So, no knitting for me during the endless meetings--sigh!