Hummm....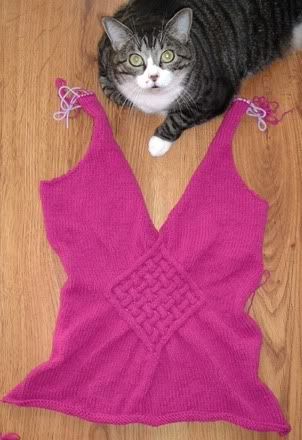 Perhaps it will be a little revealing? We will see if adjustments need to be made once the sweater is assembled. I'm thinking that I will need to knit a little triangle to fill in a the lower part of the V.
After finishing the front, I realized that the back was too short. Apparently, I don't know how to use a tape measure correctly because I was off my two entire centimeters. Now I have to decide if I should knit the entire back longer by undoing the bound off stitches for the back of the neck or if I should just knit the shoulders longer (taller?) and have a more scoopy back. Just working the shoulders would be easy because I didn't bind of the stitches there.
I'm now considering how to block this sweater. It's 50% cotton and 50% acrylic. Normally, I would steam-block cotton, but I don't think that's a good idea for acrylic. The instructions say to lay a wet towel over the pieces. That doesn't seem to be forceful enough for me. (Isn't blocking all about forcing your will onto knitted pieces?) Anybody have ideas, thoughts or suggestions?
For those interested, the cat in this photo is Scout. I tried to get Elly to pose because she hasn't appeared in my blog much recently. But Elly's idea of posing with knitting is to lay on top of the knitting to cover up any interesting details that other knitters may wish to see.
Cat news
Scout is on a kitty diet right now, which means that she, Elly, and Cleo are no longer free-fed. Instead, they get two carefully measured meals a day. I feel like a horrible cat mom for subjecting Elly and Cleo to a feeding change even though the two of them don't have weight problems. Elly and Cleo do their own things to make me feel even more guilty. Elly sits in front of the cabinet that contains the cat food and looks sad or mews pitifully. If nothing happens, she starts to open the cabinet. Cleo sometimes completely refuses to eat during meal times and then walks around the house howling at 2 am. (Incidentally, Peter sleeps like a log during these howling sessions.) Scout, on the other hand, doesn't seem to be particularly disturbed by the feeding change.