I'm in love with this: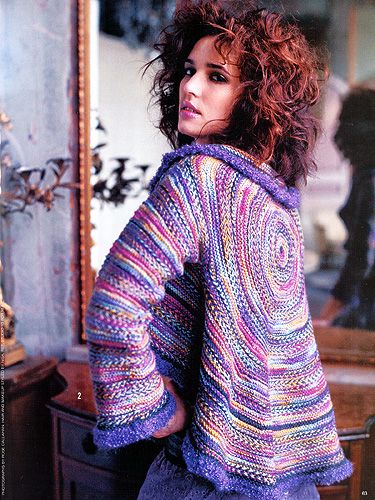 Not the girl, the sweater. What's not to love? It has everything I could ask for: interesting construction, interesting stitch pattern, and interesting yarn. From the moment I saw it, I knew I wanted to make it.
Unfortunately, the sweater does not love me. Or rather, the yarn does not love me. The yarn used is Lorna's Laces Shepherd Worsted. A quick search on the Internet shows that it retails for around
$17 per hank
. (Insert bug-eyed look here.) After the rush on Lorna's Laces yarn for a certain
over-hyped scarf
, you'd think that Lorna's yarn would be a little more afforable. I
could
substitute a different yarn, but the gorgeous colors and patterning of the sweater come from the hand-painted yarn. If I searched for other hand-painted yarns, I'm sure I wouldn't find much difference in price. I suppose I could dye my own yarn, but that's a little scary for me.
Sigh. I wonder
if
when I will give into temptation. If you're very, very quiet, you can hear the sweater calling my name.