I'll admit that I'm not the biggest fan of intarsia. Intarsia and I get along if the pattern involves only one or two large blobs of color or if the pattern involves widely-spaced small blobs of color. But many medium-sized, closely spaced blobs of color...grrr!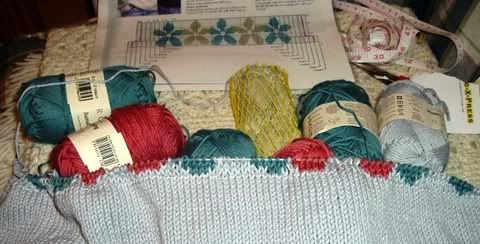 As you can see, I've entered the evil intarsia section of Rosa. In an effort to reduce the number of ends hanging off of the piece, I thought that I would carry the flower colors behind the main color from one petal to the next. That way (I reasoned to myself) I could just use one piece of yarn for each of the flowers! Genius, yes? Well, maybe in theory. Or even in wool yarn. But this is stiff, unyielding, unsquishy cotton yarn. The result? A little show-through and a little unslightly puckering. I'm going to set this project aside and let it simmer before I finally conclude that I have to rip back and start over doing proper, dangly-ended intarsia.
(Meanwhile, I have to continue to tell myself that this intarsia bit will never look as good as it would look in wool. I can't set high expectations for it. If my expectations are too high, I will never finish the sweater because I will be continually redoing the intarsia bits!)
In happier news...
The back of the Rebecca sweater is done. The back was rather boring stockinette, but now the fun will begin!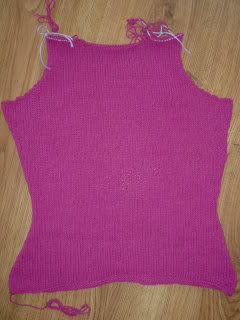 Finally,
thanks to all who told me about the spirally-shrug-sweater kits on sale at Threadbear! I appreciate the thought, however, I'm very interested in eyeballing the various Lorna's Laces colorways in person before selecting any yarn. Hopefully, I'll get a chance to see some of this lovely yarn once my LYS starts carrying it!