I'm happily and busily seaming the Rebecca sweater right now. Yes, I'm happy about it. Unlike so many other knitters out there, I love finishing sweaters. Finishing is not as exciting as knitting the pieces, but finishing is thrilling to me. It's the point when an object stops being yarn and starts being a garment. Just as I love watching pieces take shape as I knit them, I love watching a garment take shape as I sew it together and do the final finishing.
Last night, however, finishing started slowly. After doing a three-needle bind-off for the shoulder seams, I started to pin the sleeves into place. While pinning, I suddenly realized that I had no idea what I was doing. If you hadn't noticed, this sweater has puffy sleeves. So, the sleeve caps are much too big for the armholes. Obviously, I needed to find a way to gather the sleeves so that they are properly puffed and so that the sleeves would fit into the armholes!
I looked at the directions. "Join shoulder seams and sew sleeves into place." Great! Dear Editor, could you please at least acknowledge that sewing these sleeves might be a little more tricky than normal? Maybe say something like, "This sweater has puffy sleeves. Good luck with that!"
After futzing with the sleeves for several minutes trying to figure out how to evenly gather the sleeves, I tried putting an inverted pleat in the sleeve. It worked perfectly. I'm so darn proud of myself.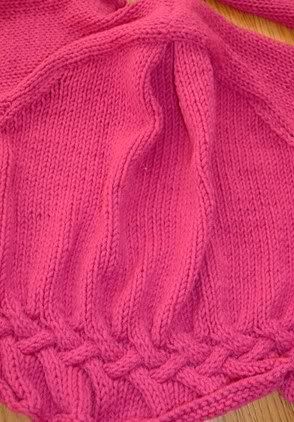 Coming up next time: The world's longest meme