The intarsia is done! At least it is for now. Yes, it took me some time, but that's mostly because I didn't want to work on it. Knitting it put me in a bad mood. At one point I had 24 bobbins and two balls of yarn attached to my work. 24 bobbins!!! No wonder I was in a bad mood. The sad news is that I have to do it all over again on the front of the sweater. Ugh. I just have to tell myself that it's only 27 rows of work... Here is Scout sniffing the flowers: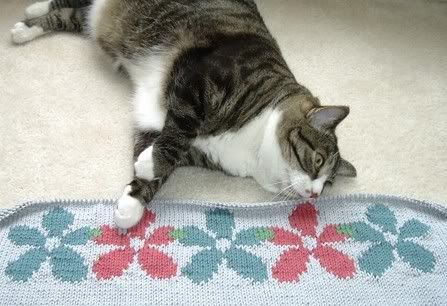 Rebecca progress:
All pieces have been knitted and the back has been corrected. Blocking will occur today, seaming will occur ??? The most alarming news about the Rebecca sweater is that I used up the "required" amount of yarn just knitting the pieces. That's without doing the crochet edging on all the pieces. Lucky for me I'm a paranoid knitter and I always buy an extra ball of yarn. No worries here!
Tivoli looms:
I'm happy to be finished knitting the Rebecca sweater because Grumperina is releasing the standardized pattern for Tivoli this week. I have been wanting to knit one of these since Ms. Grumpy first posted her pattern. Humm...maybe I should swatch now so that I can cast on the moment the pattern is posted.