Pattern:
Barbie Shawl (aka Dayflower Daydream) by Eugen Beugler from
Shawls and Scarves: The Best of Knitter's Magazine
Yarn:
Handpaintedyarn.com Pure Wool Lace Yarn in Barbie Rose
Needles:
US size 3
Comments:
Peter said, "You have been knitting that longer than you've knit anything else." He's right. Shame on me. The sad part is that I liked knitting this shawl so I'm surprised that it took so long. The pattern has long repeats so that kept it interesting, but still...I got distracted by too many flashier projects along the way.
I wish the shawl was a bit bigger, and I debated adding a repeat to it, but decided against because I wasn't sure that I would have enough yarn. Looking at my remaining yarn, I think I made the right decision.
More photos:
Cat Doily!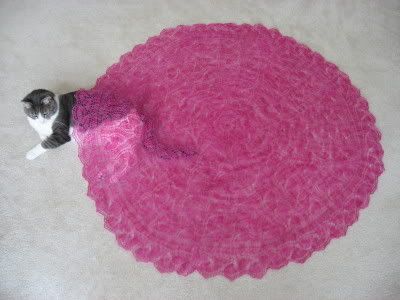 Blocking: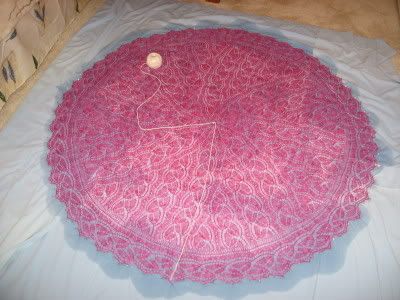 I used a string to keep the radius of the shawl even while I pinned it out. I wish I could claim that I came up with that brilliant idea myself, but I didn't.

Random close ups: