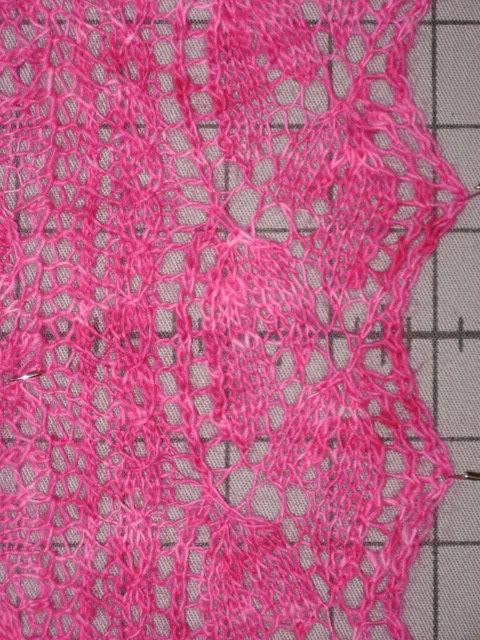 For our collective birthdays, Peter and I got a new digital camera. (Actually, we were given an Amazon gift certificate on his birthday and I have been spending the months since then researching and stressing about which camera to purchase.) The camera, a
Canon A540
, arrived at our doorstep yesterday. My old digital camera is an ancient piece of junk that came free when we bought a desktop several years ago. Over the years, I have been able to coax some nice photos out of the old camera--but doing so has not always been easy. Naturally I thought that getting a new camera with tons of bells and whistles would infinitely improve my photos with a touch of a button. [We pause here to give everyone a chance to laugh at me.]
The new camera came with SEVEN manuals. Granted, three are in Spanish and are repeats of three that are in English, but finding seven booklets stacked on top of my tiny camera was a bit intimidating. I've taken many photos already and have read 1.5 manuals but I still can't get a decent photo without using the flash. Of course, the sun hasn't been cooperating with me--it's either been behind clouds or on the other side of the world the entire time that I've owned this camera. At least I can blame my less than spectacular photos on the weather and not my lack of photographic talent.
So anyway, please bear with me for the next few weeks. The photos you see may not be the best ever, but I'm trying my darndest.
Barbie Border!
For many months, the Poor Neglected Barbie Shawl resembled a hot pink jellyfish and any progress that I made on it was unnoticeable to the casual observer. Not anymore! I started edging over the weekend and visible progress is evident as the edging grows longer. This is my first time knitting a perpendicular border/edging on a lace shawl. My
only other lace shawl
had a crocheted edge. Because of my lack of experience with knitted-on lace edgings, I was overly optimistic when I started this edging.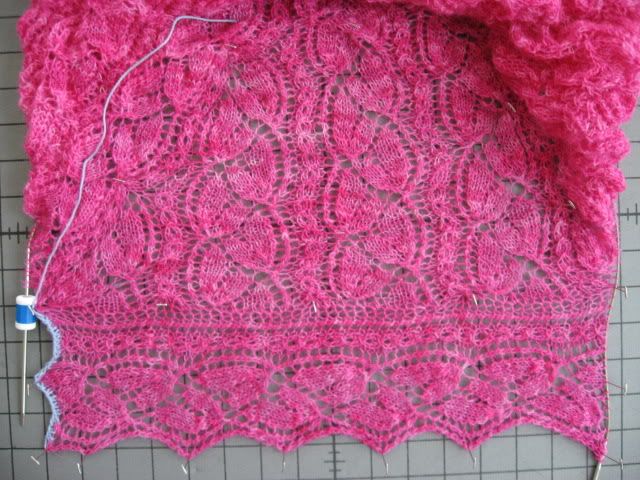 When I finished the last round of the shawl's center, I naively thought, "Yay! Just the edging is left! I'm almost done! No more long rounds!" [We pause again for a second burst of laughter. Wipe the tears from your eyes. Are you ready to go on now?] Then, I knit one repeat of the edging and stared at it. "So narrow? How many more times do I have to repeat this?"
Despite
Barbie's insistence that Math Is Hard
, I did some mathing. The last round of the shawl had 576 stitches. Each repeat of the edging "ate up" 12 measly stitches. I needed 47 more repeats of the edging. Because I was in a mathing mood, I did one more calculation. Each repeat of the edging has 540 stitches total. One repeat of the edging was almost as much work as the last round of the shawl! 540 x 47 = Nowhere close to being done. *sigh*