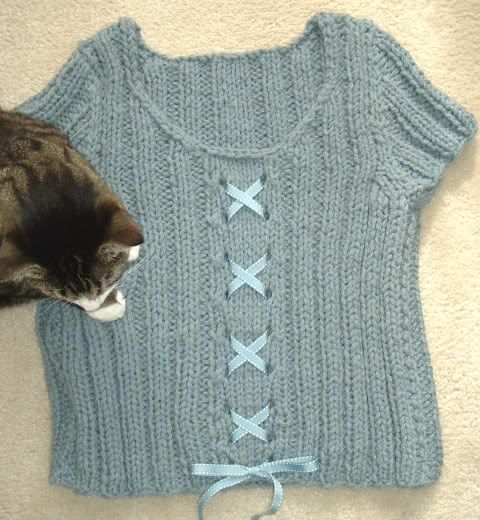 Pattern:
Mariella from
Rowan Tuscan Retreat
Yarn:
Rowan Holiday
in some bluish color--perhaps it's Rock Pool? I'm too lazy to look at the ball band.
Needles:
US sizes 13 and 15 (!!)
Comments:
1
. I'm going against my general rule that knitted garments look better when modeled by a person because I'm not pleased with the way this sweater looks on me. Or maybe I'm not pleased with the way I look with this sweater on me. I'm not certain if I'm displeased with the look because the sweater is ribbed (and therefore tight) or because the sweater is made with chunky yarn or both. Probably both. I think that chunky, tight sweaters make people look chunkier than they actually are.
2.
When seaming this sweater (and when I was still thinking that I would wear it) I was worried about having too much bulk in the seams. So, I used only half the stitches to do the seams and I used left-over fingering weight yarn to sew up the seams instead of using the sweater yarn. I think the technique worked quite well--the seams are not bulky at all. But they
aren't as neat
as properly mattress-stitched seams.*
3.
I DO think the sweater is very cute and would be very cute on the right person. Unfortunately that person is not me. However, I didn't spend much time on the sweater (one week) or much money (none) on it, so I'm not unhappy. Plus, this sweater will have a happy home in
Yarntopia
where it will hopefully help to sell lots of yarn.
*Edit to add:
Okay, because so many of you complained about me complaining about my seams--look that the image. The seam is the single row of knit stitches in the middle. Half of that row of knit stitches is from the front piece of the sweater and half is from the back half. Notice how crooked the line is? Notice how the Vs of the stitches are not even? Some are small, some are large, some have a small leg and a large leg. Hideous! Hideous, I say! My dear readers, you should be expecting such anal behavior on my part. And
Rachel
--you should be praising my attention to detail and nodding furiously in agreement as you look at the photo. Not too long ago you were threatening to shun me if I became a sloppy knitter!