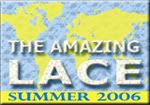 Meet the Team
I intend to have at least two and perhaps three teammates this summer. I will be starting the summer with The Poor Neglected Barbie Shawl. Barbie and I have had a long history together, which is quite surprising because I am normally driven by the need to finish projects before starting a new one. Not so with Poor Barbie. But let me start at the beginning.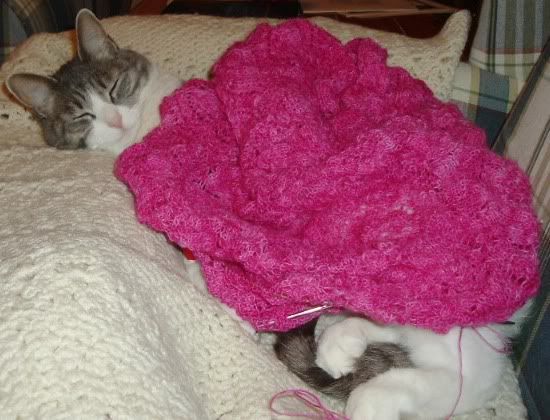 Barbie and I first met
in January
.
Monkee
introduced us and I was immediately enamored with her. At that time, her name was Dayflower Daydream but because the yarn's colorway is
Barbie Rose
, I quickly renamed her the Barbie Shawl. At first Barbie and I were constant companions. She was, I decided, to be a long-term lace project that I would work on diligently without succumbing to my usual I-must-finish-now-or-else! attitude. I wanted to savor and enjoy her.
After a few weeks of doing exactly as I intended, I began to be unfaithful to Barbie. I cast her aside, leaving her at the bottom of my knitting bag as new projects lured my fickle attentions and were unceremoniously plopped on top of her. Occasionally, I would pull her out to knit a few rounds but then I would return her to her place in the bag, preferring to give my precious knitting time to garments and gifts. How I used Barbie as a mere "filler" project! It's a wonder that she kept taking me back allowing me to enjoy her pinkness, even if only for an evening.
But this summer, I vow to be a better partner to Barbie. I hope we can patch up the wonderful relationship that we enjoyed early in our relationship. I am committed to making our partnership work. I am looking to the Amazing Lace KAL to bring us closer together and help us fully understand each other. If all works out as planned, I hope to have her finished and blocked by the end of June.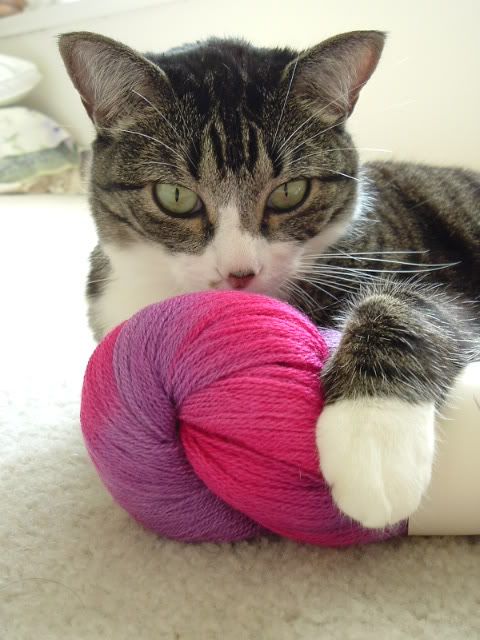 For the last part of the summer, I plan to team up with the Shaped Triangle Shawl from a Gathering of Lace. This is a controversial partnership between me, a rather repetitive pattern, and some handpainted lace-weight yarn. The formation of this team is the result of a rather impulsive purchase. I always admire the pretty color combinations of handpainted yarns, but as a knitter who likes cables and lace, I rarely buy handpainted yarns because variegated yarns are not compatible with either cables or lace. But one day, during a 20% off sale, I couldn't resist the pull of a lovely hank of Lorna's Laces Helen's Lace in Iris Garden. Pink! Purple! It had to be mine. So I bought it without any pattern in mind. Shame on me.
Over the next few months, I paid the price for my impulsive buy. I searched and searched for an appropriate pattern for the yarn. The search was difficult as I learned what I already knew: variegated yarns and lace are not compatible. I thought I had to give up on my pretty-but-possibly-useless hank of yarn. That is, until
Rachel
gave me an inspiration. She mentioned that, like a couple of her
Knitting Olympics teammates
, she hoped to make Ene's Scarf with some handpainted sock yarn. I studied the photos of her teammates and decided that Ene's Scarf DID look wonderful in handpainted yarn! I Googled and found
Ene made with Helen's Lace
--perfect! Except...the Helen's Lace Ene was knit with two strands and used more than one hank of yarn. So the search was on again, but this time I knew what I was looking for: A lace pattern with very small motifs and a lot of "air" between the motifs. From there, I didn't need much more to decide on the
Shaped Triangle Shawl
from a Gathering of Lace.
And finally, depending on how all the lacing goes this summer, I may also make a Flower Basket Shawl using the
luscious lavender Texas mohair
that I bought last year. So here we are: Team Purplely Pink!