I'm sure that my faithful readers (assuming that I have any) have noticed that I haven't been blogging very much recently. For a few weeks, I wasn't blogging because I was very busy with my work. Then, I wasn't blogging because I had nothing to blog about. Since I finished Mariella two weeks ago, I've been furiously knitting on the skirt of the
dress
that I'm knitting for Annie Modesitt. No offense to Annie, but the skirt was so boring that it hurt. Stockinette in the round. Starting with almost 200 stitches and increasing to over 400 stitches of STOCKINETTE IN THE ROUND.
Luckily for me, I can knit stockinette in the round without looking at my hands. This ability saved me from committing
hari kari
with my knitting needles. (Of course, I probably wouldn't have succeeded in the act because I was using blunt-tipped US size 8 Addis.) I watched several hours of TV. I read the entire DaVinci Code in one day. I would have taken the thing to the gym if it weren't so incredibly huge.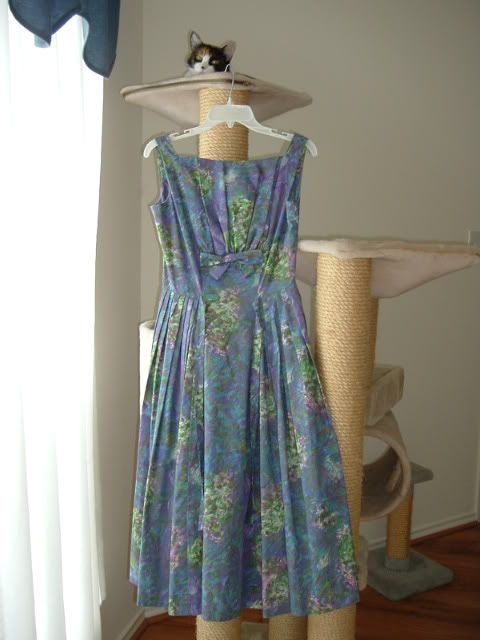 Anyway, I finished the dress this weekend. Naturally, I can't show it to you, but I want you to understand just how enormous this project was. So I found a dress in my wardrobe that has approximately the same dimensions as the knitted dress. For your reference, the cat tree is approximately 6 feet tall. The knitted dress is exactly like this dress, only different. (1) The knitted dress is one color. (2) The knitted dress has a scoop neck and short sleeves. (3) The top of the knitted dress is more "blouse-y" (4) The skirt of the knitted dress is not pleated but increases to about the same fullness. (5) The skirt of the knitted dress is 1 or 2 inches shorter. Stop for a minute and think, just think, about knitting something this size. It's crazy and I'm crazy for doing it.
The dress gets shipped off to Annie today. Poor Neglected Barbie Shawl is neglected no more.