A public service announcement:
Thank you everyone for your compliments on the Cap-Sleeved Top and thank you for not completely shunning me after I made my dreadful confession. I promise not to slack off too much. I will keep my left-slanting and right-slanting increases and decreases in order and I will continue to bend over my blocking board until my back aches just to insure that each piece matches the schematic down to an 1/8th of an inch.
Now back to our regularly scheduled blogging:
Stephanie Pearl-McPhee
may have been the first to call herself the Yarn Harlot, but she isn't the only knitter to exhibit whoring tendencies when it comes to yarn. Just last week, I had to admit to myself that I have begun to prostitute my knitting ability in exchange for free yarn.
Exhibit 1.
Exhibit 2: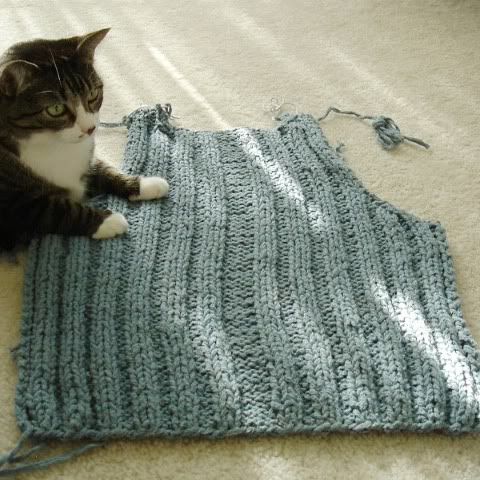 It's the beginnings
Mariella
from Rowan Tuscan Retreat. I'm knitting it as
another
display knit for
Yarntopia
. I went to the store last week to drop of the Cap-Sleeved Top and spent some time talking with Amy. One thing lead to another and I soon found myself in possession of more free yarn.*
Mariella is being knit out of Rowan's new yarn
Holiday
. When I did my review of Debbie Bliss's Pure Silk,
Terby
commented that she would like to see more yarn reviews from me. I'm not sure that this yarn is worth a full blown review, because like some of Rowan's other
summer
yarns
, Holiday borders on being a novelty yarn. When it comes to novelty-type yarns, I think that knitters will either knit with the yarn or will not knit with it. No yarn review is going to help them choose between X novelty and Y novelty.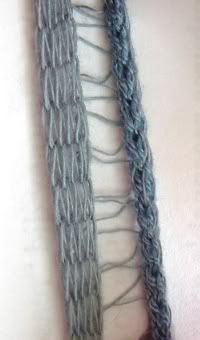 So here's a briefish review: Rowan describes this yarn as "a loosely constructed chainette yarn in a cotton blend." Weird, huh? The photo at right shows what the yarn looks like when you stretch it out and
this photo
shows what it looks like coming off the ball. I don't understand why Rowan likes making such intricately constructed yarns. I assume that the process must be labor intensive, yet the interesting construction of the yarn is not evident in the yarn as it is used or in the final knitted fabric. I guess the point is to make interesting looking yarn.
I was afraid that the big gaping holes in the yarn would make it difficult to knit with, but it isn't so bad. I do occasionally catch my needle in the yarn, but not nearly as often as I had expected to. Because it's a bulky yarn, it knits up quickly. Very much an instant gratification yarn. However, my gratification was tempered by the care instructions on the ball band: Dry clean or hand wash. Whatever. This baby is going into the washing machine. I'm not certain why I can't. Maybe I will try washing a swatch instead of completely throwing caution to the wind.
The fabric produced reminds me of terry-cloth without the fuzz. Or maybe it's cheesecloth. Or both. It's light and stretchy and I believe that it will make an excellent summer top that is perfect for the sweltering heat of Houston.
* To those who were wondering, I will get to keep these display knits eventually. They go to the store for a few months to entice people to buy yarn and then they come home to live with me permanently.