I chopped down the house that you had been saving to live in next summer.
**
I finished Mariella. It is very cute when lying on my blocking board. Not so cute when on me. Expect a full FO report soon. (Note that "soon" is a relative term.)
I am sorry, but it was morning, and I had nothing to do
I only wish that I had nothing to do. Instead, work has been crazy busy recently. I used to knit 2–4 hours every day. Now I'm lucky if I can knit a single stitch. However, I'm still happy because busy means that my new company (of which I am president, secretary, and treasurer, and have the papers to prove it) is off to a successful start.
and its wooden beams were so inviting.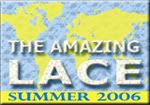 This summer's Amazing Lace KAL is very inviting. It's a KAL with a twist. Not your everyday KAL. Although I'm not much of a joiner, I jumped to join this KAL. I intend to finish The Poor Neglected Barbie Shawl and do/start
The Shaped Triangle Shawl
from
A Gathering of Lace
and perhaps make a Flower Basket Shawl along the way. This, of course, depends on what's happening with my work.
* Title from the famous poem by William Carlos Williams

** Subheads from the infamous spoof by Kenneth Koch***

*** Footnotes to show that I'm not plagiarizing.