Thank you everyone for your advice and sympathy on my machine washable two-toned purple sheepie problems. As I said, I'm waiting to see what Chester Farms can do for me before doing anything rash. No matter what happens, I'm going to reknit the two-toned sleeve. It is insanely obvious. Peter could see it without me even telling him what he was supposed to be looking for.
So to banish this case of the knitting purples, I've started a new project!
My brother and SIL are expecting their second child in May. As with their first child (the
adorable Eva
), they are not finding out the gender of the child before it's born. I don't understand this behavior. I couldn't stand the suspense.
Anyway, I've decided to call this baby-to-be my Niecephew until it's born. Clever, huh? Like dear Eva, Niecephew is getting a baby blanket. Eva got a purple and white blanket and Niecephew is getting a teal one.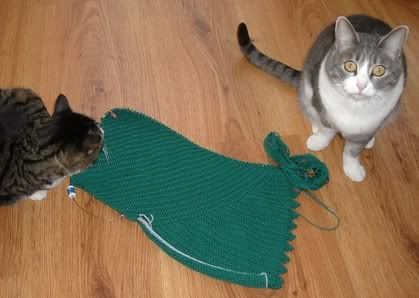 This is the start of Oat Couture's Curlicue Coverlet. Before you all start leaving comments about
Grumperina's problems
with this pattern, let me say, "I know." I also know that
Betty
and
Christy
have made flat Curlicues. And I also know that Grumperina never attempted to block her Curlicue into submission because she didn't want to force the baby's parents into blocking the blanket after every wash.
This blanket is staying in my family. If it doesn't lay flat after washing, my brother can just ship it back to me and
I
will block it. Or we can all just live with an imperfect blanket. Niecephew will be getting other handknit stuff for the rest of his/her life. Who cares if this blanket isn't flat? Niecephew won't be flat either.
You'll note that I managed to get Elly into this photo. Some people at my SnB actually thought that I had only one cat because Scout is such a camera ham. But I do have other cats. Elly (on the right of the photo) and
Cleo
. Scout just gets most of the blog time because she follows me around like a puppy and is always handy when I'm ready for a photo shoot and because she's very good at sitting where I place her and behaving herself during the photo shoots. Elly and Cleo tend to wander off or
attack the knitting props
.