I finished the sleeves for Rogue in a knitting frenzy over the weekend. I was very paranoid about running out of yarn despite
PumpkinMama's
assurance that I wouldn't. Thankfully, she was right! But it was close: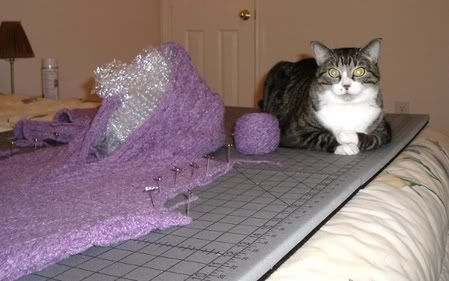 In this photo you see: the front/back/hood of Rogue blocking, what's left of my yarn, and Scout (for scale). According to my pre-yarn order calculations, I should have had 170 "extra" yards of yarn to play with. That's why I didn't bother to order and extra skein of yarn. However, that little ball of yarn is only 0.75 oz--less than 40 yards! Not much left and I still have to use some of that yarn for the seams.
The truly scary part is that I did a couple modifications that significantly reduced the amount of yarn that I needed. Had I knit the pattern exactly as written I would have definitely run out of yarn. Instead of reading about my relief, you would be reading about my panicked phone call to Chester Farms in which I begged for another skein from the same dye lot as the order that I placed in mid-December.
I'm pretty surprised that I cut it so close with the yarn. Usually, I never have problems using more than the required amount of yarn for a project. I doubt the yardage estimates on Rogue are off because so many people have knit the sweater. However, I won't try to speculate what happened this time because everything worked out in the end!