No, I'm not expecting a baby. I've just moved on to knitting more baby things. I've decided that baby things are good to knit. Babies don't care what they look like and baby clothes are small. Unfortunately, one of the baby things I'm knitting isn't small. I'm making a baby blanket for a coworker whose baby is due in June. I'm a little more than 1/3 of the way finished. (Warning: the following photos were taken in an extremely bright patch of sun to show off the objects' true colors.)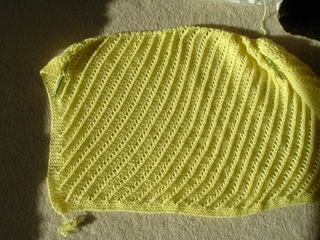 A closeup of the pattern: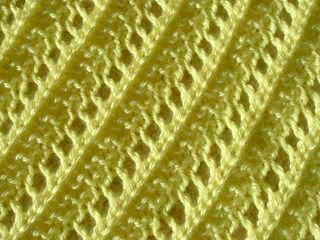 I'm also working on Candace--a baby sweater for my little niece. Like
Devan
from Knitty, it is made from self-striping sock yarn. I've never used self-striping yarn before so knitting it up is very fascinating for me. The small gauge doesn't bother me as it bothered
PumpkinMama
, but she made the 2-3-year-old size and I'm making the 1-year-old size. Also, I haven't started the extremely boring, plain backside of the sweater. Here are the front panels just before the armhole shaping: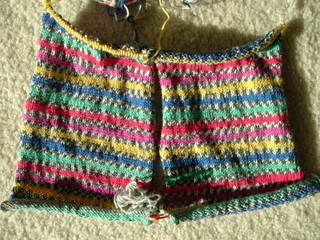 Meanwhile...
the Spring edition of
Knitty
was published yesterday. Lots of cute stuff. I think I'm going to start with the
Ribbon Xback
. I want to do this pattern because (1) I have never made a tank top, (2) I have never used ribbon yarn, and (3) it's made with bulky yarn on fat needles so it should knit up quickly. But what about poor
Moni
? I can't start her until Candace is done and the size 4 needles are free again.