Over the weekend I made a second
Kittyville
hat. I'm giving it to my SIL Tracy for her birthday. Tracy used to own two black cats, but now she and my brother live in a rented house and their landlord won't let them have pets. I was going to make her a black hat, but I hate working with black yarn, so I chose a dark heathered charcoal instead. I think I did a better job placing the ears on this hat: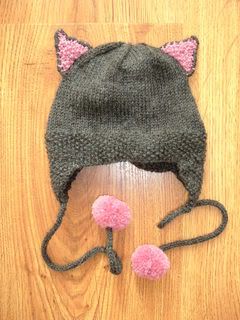 Yarn used:
MC Plymouth Galway Highland color 704, CC Plymouth Galway color 114
Needles:
Two circular US size 9
This hat was the first object that I have made with Plymouth Galway. Very nice yarn! Soft, good yardage, lots of colors, and wound in a center pull ball. Galway may become my standard worsted weight yarn.
Meanwhile...
Progress on Peter's sweater is continuing. I'm working both sleeves at the same time. I need to work fast. Peter's birthday is April 17th and I decided that I wanted to give it to him as a present. I love giving myself deadlines.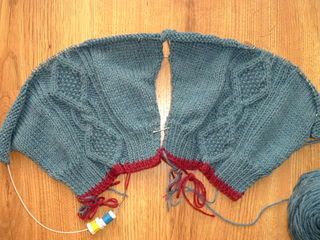 Guilty of Conspicuous Consumerism
I finally gave into temptation and ordered a
fancy blocking board
. The towel-covered bed is no longer good enough for me.