I finished the front of Peter's sweater last night. The neckline looks a little funny now because it will have a short button placket at the top. This sweater is going to have the most complicated finishing of any sweater that I have ever made. The sleeves have saddle straps--another new thing for me. But I can't become a better knitter unless I try new things, right?
So here's the photo of the front of the sweater. It is not as nice of a photo as the photo of the
back
was. The weather is rainy and cloudy today so there is no nice sunlight for a good photo shoot.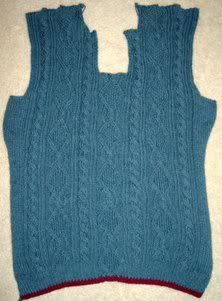 Last night at the Clear Lake SnB,
Monkee
asked me what I was going to knit next. I only gave her a partial answer because I have so many things I want to knit that I couldn't remember them all. First, I need to make another
Kittyville hat
for my SIL. Her birthday is coming up. I also am planning to make another sweater for my niece Eva. It's called Candace and it's made with sock yarn. The yarn has been ordered and is on it's way. The sweater is shown below.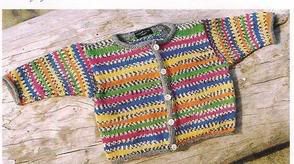 After Peter's sweater is finished, I need to start yet another baby gift. This time, the gift is a baby blanket for my coworker's 4th baby. I'm making the blanket shown below because it's almost completely reversible. The design on the wrong side is not identical to the design on the right side, but the wrong side still looks nice. I have this thing about making sure that objects which can normally be viewed from both sides are reversible. That's why I was so excited when I made my reversible rib shawl.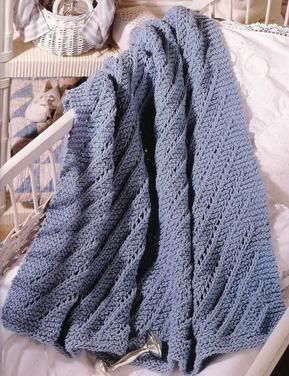 Once
that
blanket is finished, I will start making something for me. Probably Debbie Bliss's
Grace
. Or maybe
Moni
from Rowan 31. Or maybe even
Maggie
from Rowan 31. But if I did Maggie, I would have to alter the pattern. It
MUST
be longer. No one needs to see my belly button.