when you have 111 unread entries on bloglines and you don't subscribe to very many blogs in the first place.
Look: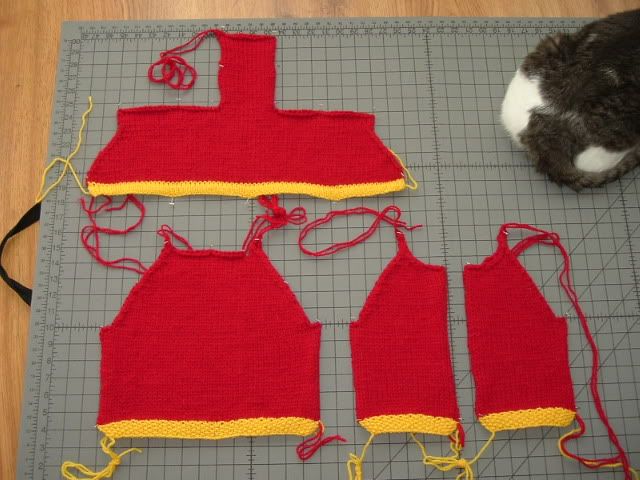 It's proof that I have been knitting (and a photo of Elly's rear end). Unfortunately, I haven't been knitting very much. What you see are four of the six pieces need to make a
Dragon Hoodie
for Eva. I have been wanting to make this sweater for a long time now, but never got around to it because I could never find yarn that I liked. I finally settled for Plymouth Encore even though the gauge is wrong.
For some reason, this tiny sweater is causing me great anxiety. I ripped out the back (or part of the back) three times for various reasons. I worry that it won't fit Eva because I have no idea how big an 18-month old is. I worry about how the parts are going together (the hood construction is a bit baffling to me). I worry about installing the zipper. Heck, I worry about FINDING a zipper. I worry about making the crocheted poky things to go along the spine. I worry that it will look too plain without the spots. I worry that no one will know that it's a dragon. I worry that the colors aren't right. (I picked red and gold because I thought that Eva should be a Chinese dragon because she's more Chinese than I am. But do people know that Chinese dragons are red and gold?)
To make this sweater even harder on me, I decided to knit the entire thing continental style. Why? To prove to myself that I can do it and to make knitting a mostly stockinette sweater a bit more interesting. I am primarily an English knitter, but I learned to knit two-handed fair isle very early in my knitting career. So, I can easily knit and purl with both hands. However, increasing, decreasing, and binding off continental style are challenging for me. I know the benefits of continental knitting, but boy oh boy is it uncomfortable for me. I think this will be the end of my experiments with continental knitting. That is, until the next time I want to experiment with continental knitting again.
In regular life:
My last day at my job is Thursday. Today, I'm waffling between "I'm so happy!" and "I'm so sad!" I'm happy to escape from the chapters that I have been editing and re-editing for years, but it frightens me that someone else is going to edit
my
chapters. I guess I can't have it both ways. Meanwhile, I already have two freelance jobs lined up. *Whew!* I'm not unemployed after all.
I'm also entertaining myself with my new computer. It has a built in webcam.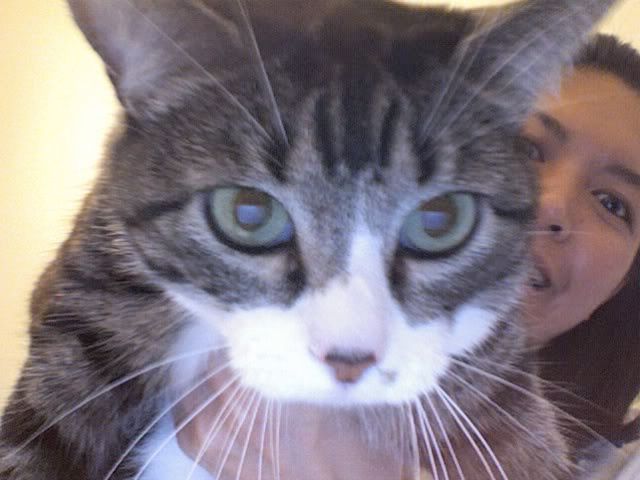 click for giant Scout