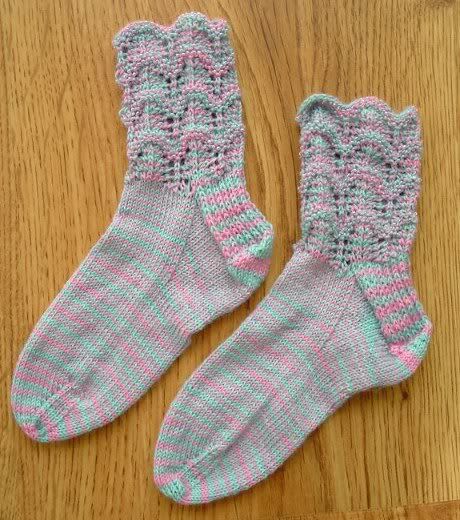 Pattern:
Spring Melody Child's Socks from 2006 Knitting Pattern-a-Day Calendar
Yarn:
Lorna's Laces Shepherd Sock in Baby Stripe, 1 hank
Needles:
US size 0 DPN (yes, DPN!)
Pattern Errata:
Before I started this pattern, there were no errata posted online. I found several mistakes and communicated them to the designer. I'm not sure if the designer passed the mistakes on to the publisher.
1.
In the "Make Heel" section, repeat rows 1-
4
.
2.
In the "Shape Heel" section, row 6 should read: p10, p2tog,
p
1, turn
3.
The "Foot" section should read: Continue knitting in stockinette until foot measures
1.5
inches less than desired length.
Modifications:
I did a normal slip-stitch heel flap instead of following the directions.
Comments:
The socks are pretty darn cute, but those beads were a bear. Should I ever do beaded knitting again, I'm going to try the
crochet-hook method
.
I showed SG one finished sock this weekend. I also showed her that I was working on the second sock. I didn't even have to tell her that the socks are for her. She figured it out on her own. She was very shy at first--she didn't even want to touch the sock. But once I convinced her to hold it, she got very excited. The first thing that she noticed were the beads. So, of course, putting the beads in was completely worth it!
Random, unrelated weirdness
because
Monkee
asked....
click of you dare
.